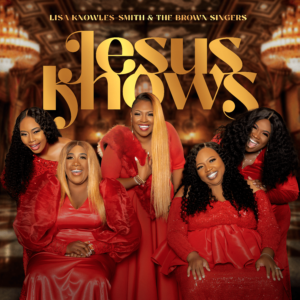 "Jesus Knows"
Lisa Knowles-Smith and the Brown Singers
EvoWorld Music (release date: May 13, 2022)
By Robert M. Marovich
For their new single, Lisa Knowles-Smith and the Brown Singers draw on key lyrics from the folk spiritual, "Nobody Knows the Trouble I've Seen."
But that's where the comparison ends. Whereas the spiritual is slow and mournful, "Jesus Knows" is rapid-tempo and optimistic. Propelled by a twangy rhythm guitar, Smith and the Brown Singers emote not from a place of sorrow but from a sense of spiritual happiness. Church aphorisms spring off their tongues with delight as they revel in the knowledge of Jesus's protection. Whether you've fallen or are sick and can't get well, they sing, Jesus knows you are in trouble and is there to pick you up.
From Memphis, Lisa Knowles-Smith is one of the most energetic, effervescent female vocalists in gospel quartet today. She's also a record label owner, having launched EvoWorld Music.
Written by : Bob Marovich
Bob Marovich is a gospel music historian, author, and radio host. Founder of Journal of Gospel Music blog (formally The Black Gospel Blog) and producer of the Gospel Memories Radio Show.