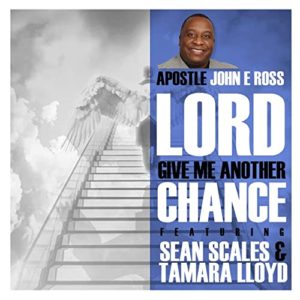 "Lord Give Me Another Chance"
Apostle John E. Ross feat. Sean Scales & Tamara Lloyd
Independent (preorder release date: November 13, 2020)
By Robert M. Marovich
A vocal duo of Sean Scales and Tamara Lloyd delivers a single so churchy that it all but stands up and testifies.
A passionate plea for forgiveness, "Lord Give Me Another Chance," written and arranged by Apostle John E. Ross, is fueled by the traditional gospel blues base and the 12/8 time signature that some elders call the "rocking chair" rhythm. Lead singer Scales offers fine singing at all ranges, from stave-topping falsetto flights and frictionless melismatic runs to gutsy growls and joyous whoops.
Apostle Ross is a true Midwesterner—born in Quincy, Illinois, raised in the Quad Cities, and now a resident of Wichita, Kansas. Tamara Lloyd served as a background vocalist on Jason Williams' recent single, "Out of This,"  while Sean Scales is a producer who has worked with the likes of Lowell Pye and Keith Reed Jr.
Written by : Bob Marovich
Bob Marovich is a gospel music historian, author, and radio host. Founder of Journal of Gospel Music blog (formally The Black Gospel Blog) and producer of the Gospel Memories Radio Show.