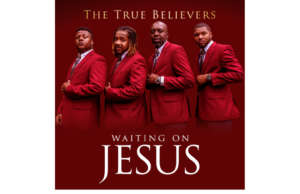 "Waiting on Jesus"
True Believers
4 Winds Records (release date: October 23, 2018)
www.malaco.com
By Bob Marovich
On "Waiting on Jesus," Castro Coleman and the True Believers exude gobs of enthusiasm about the coming of the Lord.
Using the tried-and-true call-and-response format, the group sings about fasting and praying until the great day comes. The song moves with that slow-strutting tempo and the crashing drum backbeat characteristic of deep southern soul gospel quartet singing. The lyrics and music are ready-made for extroverted physical movement by audience and quartet alike.
Coleman is no stranger to gospel music. He traces his roots back to singing in his aunt's McComb, Mississippi-based gospel group, Grace King and The Mellonettes. In addition, Coleman has worked with top quartets over the past thirty years, including the Canton Spirituals and the Williams Brothers. He also fronted Castro Coleman & Highly Favored, another Malaco signee. As a blues artist, he's known as Mr. Sipp, and has garnered a number of awards for his 2015 Malaco album, The Mississippi Blues Child.