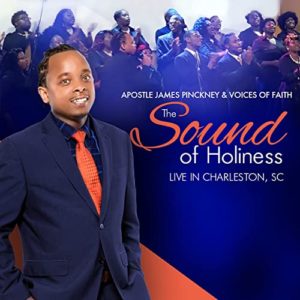 "You Fight On"
Apostle James Pinckney Jr. & Voices of Faith
From The Sound of Holiness (release date: November 6, 2020)
https://faithtabernaclechurchofzion.com/
By Robert M. Marovich
From South Carolina, the Voices of Faith choir, under the direction of Apostle James Pinckney Jr., was one of the darlings of the 2021 Rhythm of Gospel Awards weekend, winning in four categories, including Song of the Year for "You Fight On."
The up-tempo song about persistence and endurance has the soul of a wooden-church congregational hymn supported by tambourines, washboard, cowbell, and a House of God-style steel guitar. The choir sings with verve but, at the same time, doesn't overdo it on the volume or vibrato. The song sparkles from start to finish.
Apostle James F. Pinckney Jr. is senior pastor of Faith Tabernacle Church Of Zion, Inc. in North Charleston, South Carolina.
Written by : Bob Marovich
Bob Marovich is a gospel music historian, author, and radio host. Founder of Journal of Gospel Music blog (formally The Black Gospel Blog) and producer of the Gospel Memories Radio Show.