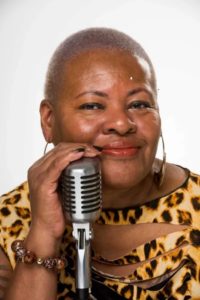 "Wade in the Water"
Miss Freddye
MMM Records
www.missfreddye.com
By Bob Marovich
Many know Pittsburgh's Freddye Stover, aka Miss Freddye, as an award-winning blues singer. Her musical roots, however, run deep in the church.
Miss Freddye pays tribute to her sacred foundation by releasing "Wade in the Water" as her latest single. She combines her church and blues training into a righteous reading of the folk spiritual. Assisting are vocalist Kim Parent and a musical backdrop that includes a suitably-warbling organ. You can see in your mind's eye the Leslie speaker's innards spinning.
Produced by Mike Morgan and arranged by Nashville's Jay Vernali, "Wade in the Water" is a preview of Miss Freddye's forthcoming album of gospel and spiritual songs. If the album is as good as the single, it will be well worth the wait.
Written by : Bob Marovich
Bob Marovich is a gospel music historian, author, and radio host. Founder of Journal of Gospel Music blog (formally The Black Gospel Blog) and producer of the Gospel Memories Radio Show.