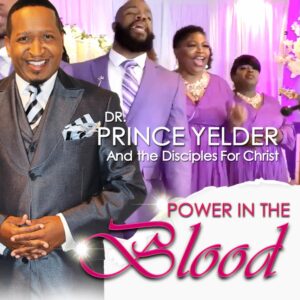 "Power in the Blood"
Dr. Prince Yelder & the Disciples for Christ
Tyscot Records (release date: April 1, 2022)
www.tyscot.com
By Robert M. Marovich
With a nod to the song's composer, Bishop Leonard Scott, Dr. Prince Yelder & the Disciples for Christ offer a resounding and high-energy version of "Power in the Blood."
In her commanding alto, lead singer Brenda Card testifies about the power of the blood in a lyrical conversation with the choir, as the musicians pump out a bracing beat. The choir uses its brief solo to deliver majestic New G-style chords and cascading harmonies.
The song was recorded live at Greater Grace Baptist Church in Birmingham, Alabama.
Written by : Bob Marovich
Bob Marovich is a gospel music historian, author, and radio host. Founder of Journal of Gospel Music blog (formally The Black Gospel Blog) and producer of the Gospel Memories Radio Show.