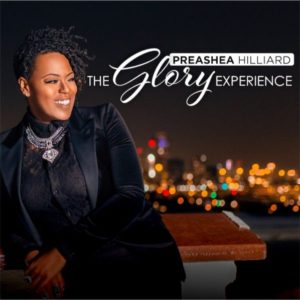 Preashea Hilliard
The Glory Experience
Daywind Records (release date: April 21, 2017)
www.preasheahilliard.com
By Bob Marovich
"Are you ready for revival?" Preashea Hilliard asks the live recording audience at New Light Church in Houston, Texas.
The crowd gives Hilliard, the daughter of New Light's leaders Bishop I.V. and Pastor Bridget Hilliard, its assent.  But what she proposes is not an old-style tent revival, and they know it. The intention may be the same but hers is a twenty-first century version more accurately described in the album's title as an "experience."
The Glory Experience album is, for all intents, a portable worship service. It's a collection of praise & worship songs with uncomplicated lyrics and simple melodies drawn from Hilliard's own pen as well as from those of several other songwriters, such as Tasha Cobbs, Jonas Myrin and Matt Redman, and David Binion of Covenant Worship.  The album is also more nuanced than her 2011 Live Out Loud, which concentrated on thunderous and energetic praise music.
Two components distinguish this P&W album from so many others like it. First, it opens not with the almost compulsory aerobic "put your hands together" worship workout but the achingly beautiful "Isaiah 40 Intro." This reflective ballad comforts its people by embracing them with sweet strings and a reverent tone. It is the best track on the album and doesn't need the "intro" moniker – it is a standalone selection.
Second, the album possesses a keen sense of timing as Hilliard traverses the many musical palettes on which P&W has been drawn over the years, but in a seamless way that spares the listener aural whiplash. She shifts effortlessly from Binion's energetic praise anthem "Heaven On Earth" and the hooky EDM of "Let's Go Up" to the acoustic "Forever (Everlasting God)" and a string of hypnotic worship songs such as "Hallelujah" and "I Believe."
Another album highlight is producer Eric King Jr.'s immense "Yes, Our God Still Reigns." It sets in song what Hilliard declares in the reprise to "No God Like Our God": putting praises to work in your life can produce blessings.
Hilliard's vocal instrument is expressive but not histrionic. She soothes and caresses her message across. The musicians and background vocalists do a superb job accompanying her; drummer Josh Mayfield in particular is out of this world.
The Glory Experience, with its oversize packaging and pullout poster with Biblical references to each song, is an album of P&W that will appeal to those who enjoy P&W as well as to those who, like me, prefer more spirited sacred music.
Five of Five Stars
Picks: "Isaiah 40 Intro," "Yes, Our God Still Reigns"
Written by : Bob Marovich
Bob Marovich is a gospel music historian, author, and radio host. Founder of Journal of Gospel Music blog (formally The Black Gospel Blog) and producer of the Gospel Memories Radio Show.