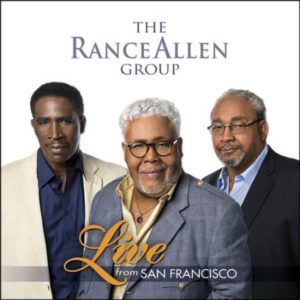 The Rance Allen Group
Live from San Francisco
Tyscot Records (release date: October 28, 2016)
www.tyscot.com
By Bob Marovich
"I'm loving me some of y'all," gushed an obviously pleased Bishop Rance Allen to the audience gathered to hear the Rance Allen Group at the Second Annual Charles Reid Gospel Festival in Richmond, California, north of San Francisco.
From the response of the audience, the love was mutual.
The Bay Area program was recorded live by Tyscot Records and released as Live from San Francisco, the Rance Allen Group's 25th album and third live project. They return for this live album to California where, in their early days, they were part of the lineup at the historic Wattstax concert in Los Angeles. On the new album, the power trio from Toledo, Ohio, performs a combination of fan favorites and newly-composed songs in that same percussive and funky gospel style that was ahead of its time at Wattstax and remains relevant today.
Like James Brown's soul music, the Rance Allen Group's gospel music is meaty, sweaty, and driving. Live performance is an ideal environment to hear the trio because it has that jam band quality. Live and visual are even better, as Tyscot's DVD of the Richmond program illustrates.
Among the classics on the album are "Miracle Worker," "Something About the Name Jesus," and "Like a Good Neighbor," while new tracks include the Sunday morning worship song, "All Day Long," and "My Delight," the latter a conventional praiser that features a solo turn by Steve Allen.
Notwithstanding the group's nod to the sound of today's gospel radio, P&W doesn't suit such a hard-driving, rootsy set of singers and musicians as the Rance Allen Group. These are guys who grew up when P&W was known as "devotionals."  The trio is therefore at its best on the energetic tracks, such as "Miracle Worker" and the closer, "Got Me Dancin'," which features an extended instrumental vamp straight outta James Brown. Former Christianaires member Paul Porter, no stranger to assisting the Rance Allen Group—he guest soloed on their "You That I Trust"—duets with Rance on "Vessel," a hard charging and passionately sung ode to discipleship.
Not surprising, given the socioeconomic times, the themes of steadfastness and trusting in God appear frequently on Live. The quartet-fired "Hold On," "I'm Not Givin' Up Givin' Out Givin' In," and "Miracle Worker" all contain these messages. The joy in finally making it through is aptly expressed on "Victory Dance" and "Got Me Dancin'."
A concert in a jewel case, Live from San Francisco contains the muscular gospel that fans have come to expect from the Rance Allen Group.
Four of Five Stars
Picks: "Hold On," "Vessel"
Written by : Bob Marovich
Bob Marovich is a gospel music historian, author, and radio host. Founder of Journal of Gospel Music blog (formally The Black Gospel Blog) and producer of the Gospel Memories Radio Show.