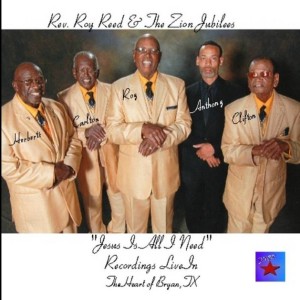 Rev. Roy Reed & the Zion Jubilees
Jesus Is All I Need
Sharp Records (2016)
www.sharprecordsusa.com
By Bob Marovich
The Zion Jubilees remain the flagship artist for Sharp Records. The quartet's new CD, Jesus Is All I Need, recorded live in the group's hometown of Bryan, Texas, proves there is still power in the traditional gospel quartet sound.
Since its founding as the Reed Brothers in the late 1950s, the Zion Jubilees has dished out wooden church wisdom steeped in sweet harmonies and hard gospel lead singing. Making records for Stan Lewis's Shreveport-based Jewel Records in the 1970s, the group released albums on its own until signing with Sharp several years ago.
The inevitability of death and life in the hereafter are recurrent themes in gospel music, and they are on this CD, no doubt because members such as the Reverend Roy Reed are looking this fact square in the face, as are the quartet's more senior enthusiasts. For example, on "Going Up Yonder," an album highlight (but not the Hawkins classic), Reed admits he doesn't know how long he'll be singing down here, but no matter when he leaves, he wants to go where Jesus is. The song is rendered in the congregational singalong style "like the old folks used to sing." "Mother's Request," a story song in the Pilgrim Jubilees' tradition, is about a mother who is not concerned about where she will be buried but whether she died in Jesus.
Notwithstanding these more somber subjects, the album contains plenty of optimistic messages. On "You Can't Stop Me," the leader reminds the listener that he's come too far and "I ain't gonna stop now." "It Must Be a Change" implores for universal brotherhood and love as ways to solve the world's problems. "Jesus Lifted Me" is an energetic quartet version of Chicago's First Church of Deliverance Radio Choir classic, "I'm So Glad Jesus Lifted Me." The lead vocal shouting on this exceptional track is reminiscent of the Clarence Fountain-Jimmy Carter exchanges on Blind Boys of Alabama programs.
Behind the Zion Jubilees' hard singing are sweet quartet harmonies, none sweeter than on the title track. Add guitar curlicues, chirping organ, and movable lyric couplets, and Jesus Is All I Need has the goods for fans of traditional gospel quartet singing.
Four of Five Stars
Picks: "Going Up Yonder," "Jesus Lifted Me"
Written by : Bob Marovich
Bob Marovich is a gospel music historian, author, and radio host. Founder of Journal of Gospel Music blog (formally The Black Gospel Blog) and producer of the Gospel Memories Radio Show.