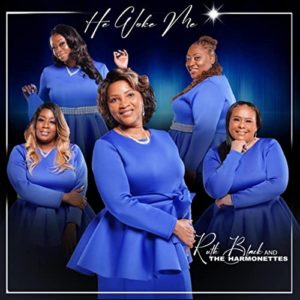 Ruth Black and the Harmonettes
He Woke Me
Raymarkable Music, Inc. (release date: August 13, 2021)
www.raymarkablemusic.net
By Robert M. Marovich
Production by Ray Braswell Jr. at his Raymarkable Studios in Rocky Mount, North Carolina, is a seal of quality for any quartet project, as it for the latest Braswell-produced CD, Ruth Black and the Harmonettes' He Woke Me.
The five-member female quartet from Alexander City, Alabama, offer ten quintessentially deep southern soul quartet selections. The album toggles between high-energy songs like "Weeping May Endure" (where the group bears an aural resemblance to the Ingramettes) and "I Know I'm Blessed;" and sacred ballads like the lovely "Jesus is the Way" and "Tell Heaven." The latter traffics in traditional gospel couplets, such as "When I get to heaven, I'm gonna sing and shout / Ain't nobody gonna turn me out," but also gospelizations of soul lyrics like "Ain't no mountain high enough."
The bouncy title track includes fragments of "Woke Up this Morning with My Mind Stayed on Jesus" in its ode of gratitude to the Lord for literally allowing them to see another day. "The alarm clock didn't wake me," they sing. "It was Jesus." To the standard quartet backbeat, the ladies offer a warning to the alcoholic, drug addict, backslider, and peace breaker, among others, on the rousing opener, "Be Ready."
Not all the songs are newly-composed. They do an exceptionally leisurely but nevertheless soulful version of the church chestnut, "In the Garden."
Though some of the quartet's lead singers are stronger than others, in combination Ruth Black and the Harmonettes are robust vocalists who fold a contemporary feel into old church melodies and lyrics that gush with gratitude to God.
Four of Five Stars
Picks: "Weeping May Endure," "I Know I'm Blessed"
Written by : Bob Marovich
Bob Marovich is a gospel music historian, author, and radio host. Founder of Journal of Gospel Music blog (formally The Black Gospel Blog) and producer of the Gospel Memories Radio Show.