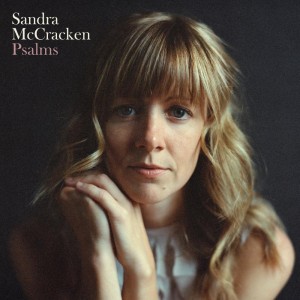 Sandra McCracken
Psalms (2015)
www.sandramccracken.com
By Bob Marovich
Nashville singer-songwriter Sandra McCracken —more accurately described as a singer-hymnist—is breathing new life into traditional church music. On Psalms, her latest in a string of solo albums going back fifteen years, McCracken demonstrates that the austere melodies and lyrics that served as the soundtrack to Sunday mornings for centuries are just as relevant today.
On record, McCracken sounds like the artistic sister of the Eagle Rock Gospel Singers who holed up in her room listening to Laura Nyro when they were digging the drive tempo selections of the Canton Spirituals and Dixie Hummingbirds. McCracken's voice has power in the middle and fragility at the edges, both of which evoke the essential humanness of church music: we sing with strength to overcome our hurt and worry.
In toto, Psalms sounds like a late night jam session in the basement of a church, where McCracken and her band of musicians have uncovered dusty copies of the Sacred Harp, Southern Harmony, and other nineteenth century songbooks, and are putting their own touch to the selections. This is not surprising: McCracken is part of Indelible Grace, a mass movement that aims to reintroduce the power of the hymn to today's church.
Most of the songs on the album are based on specific psalms. Some selections float slowly, like a morning mist, while others, such as "Sweet Comfort" and "Flourishing," prod their foursquare lyrics with a steady folk rhythm.
The opening track, "All Ye Refugees," works as both religious and contemporary metaphor. It is hard not to think of what is happening in Syria, and the unendurable anti-immigrant rhetoric infesting the current political conversation, when hearing McCracken sing with open heart: "Welcome home, gather round, all ye refugees, come in." See, hymns are relevant today. Sandra McCracken's Psalms reawakens their sound and forgotten fury. To quote one famous common meter selection, the hymns used to "drive the doubt of dark away," and still do.
Four of Five Stars
Picks: "Sweet Comfort," "Flourishing."
Written by : Bob Marovich
Bob Marovich is a gospel music historian, author, and radio host. Founder of Journal of Gospel Music blog (formally The Black Gospel Blog) and producer of the Gospel Memories Radio Show.