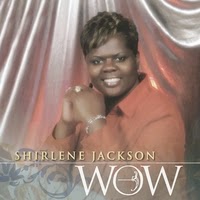 Shirlene Jackson
Wow
is a self-produced five-track EP by Shirlene Jackson of New Edinburg, Arkansas. A capable gospel singer who proved her merit in 2005 by winning the Gospel Talent Showcase in Hot Springs, Arkansas, Jackson's calling card is lofting soprano notes over the musical fence when the spirit moves her.
More than any other track on the EP, her debut solo project, Jackson shows what she can do on "I Found Jesus." Written by Darrell McFadden of Disciples fame, "I Found Jesus" has the traditional quartet beat and wooden church religion in its lyrics.
Of the four songs Jackson wrote and included on the EP, the title track is the strongest. It is a playful, finger-popping exposition of the wow factor in Jesus' miracles, whether done in the Bible days (turning water into wine) or in the current day (helping when bills come due). The bluesy licks and female background vocals further distinguish this selection from her other compositions, which are commonplace P&W fare.
In addition to her solo career, Shirlene Jackson is lead singer of their family group, the Nelson Wonders, which consists of her sisters Fleshia Williamson, Vanessa Nelson, and Yvonne Nelson.
Written by : Bob Marovich
Bob Marovich is a gospel music historian, author, and radio host. Founder of Journal of Gospel Music blog (formally The Black Gospel Blog) and producer of the Gospel Memories Radio Show.