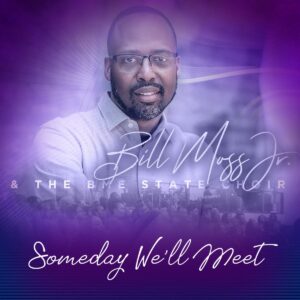 "Some Day We'll Meet"
Bill Moss Jr. & the B.M. & E. State Choir ft. Carolyn Jacobs
From the Salathiel Records album His Majesty (album release: 2020)
http://www.salathielrecords.com/
By Robert M. Marovich
The B. M. & E. State Choir punctuates "Some Day We'll Meet," a gleeful evocation of the great meeting in the hereafter, with "hallelujahs" and "forever and evers" from the "Hallelujah Chorus" of Handel's Messiah.
Carolyn Jacobs sings with the passionate spirit of a quartet lead over the B. M. & E. Choir's effusive harmonies on this up-tempo song written by Bill Moss Sr. in the 1970s. The spirited singing, somewhat unconventional arrangement, handclapping, and full-on rhythm section evoke the electricity of Dr. Mattie Moss Clark's choir sound on which Bill Jr. grew up. The song and accompanying album were recorded in Detroit at the New Providence Baptist Church. Energetic!
Written by : Bob Marovich
Bob Marovich is a gospel music historian, author, and radio host. Founder of Journal of Gospel Music blog (formally The Black Gospel Blog) and producer of the Gospel Memories Radio Show.