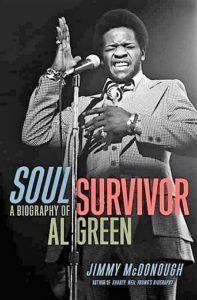 Soul Survivor: A Biography of Al Green. By Jimmy McDonough. Da Capo Press, 2017. 432pp. (hardcover). Index, illustrations. ISBN 978-0-306-82267-4. $28
By Bob Marovich
"This was a very challenging project," journalist and biographer Jimmy McDonough concedes in the acknowledgements of Soul Survivor, his biography of Al Green.
You can almost hear McDonough heave a sigh of relief after writing that statement.
Chronicling the life of such a defiantly inscrutable entertainer and minister as Green would be difficult enough with the protagonist's participation. Instead, McDonough had to proceed essentially without Bishop Green's blessing, relying for his information on decades of existing taped interviews, articles, videos, documentaries, and the only other Green bio, Take Me to the River. This he supplemented with wonderfully colorful interviews he was able to conduct with the musicians, producers, record company personnel, friends, lovers, and others who journeyed with Green along the course of his 50-year music career.
The result is a fascinating, informative, and entertaining read about the rollercoaster world of Al Green, one that leaves the reader amazed and appreciative that the singer is still standing.
The author of the Neil Young biography Shakey and contributor to such publications as The Village Voice and Variety, McDonough is clearly a fan of Green's music. He deems Green "one of the world's greatest singers" and says he "will surely go down in history as one of the greatest live performers to have ever graced a stage." At the same time, McDonough is a discerning fan. He cheers when Green succeeds (he considers the 1973 album Call Me a masterpiece) and is disappointed when he doesn't. He also admires Green's Wile E. Coyote-like ability to handle whatever comes his way or, more often, what he himself precipitates, by dusting himself off, flashing his charming smile, and pressing on.
Soul Survivor (taken from the title of Green's 1987 album) chronicles Green's birth in Arkansas; his upbringing and early music experience in Grand Rapids, Michigan; his discovery by Hi Records; his subsequent domination of the 1970s R&B and pop charts, which included frequent appearances on Soul Train and at major venues; and Green's gospel music career and church life.
As McDonough shows, the rewards Green collected from his Hi hits came with a high price. There were failed marriages, perpetual fights with musicians over money and control, and an indifference to the advances of some of his girlfriends. The latter precipitated a paramour's suicide in his home, an incident that became known as the "Grits Green" story.
Green wondered whether the chaos swirling around him was the result of his not making good on a March 1969 promise to God that he would turn to religious activities if he became a superstar (interestingly, Green never considered himself a soul or R&B singer, McDonough reports, but a rock and roll singer).
Sometime after a religious epiphany (at Disneyland, of all places), Green attempted to make good on that promise. Although as early as 1971 he had been placing at least one religiously-oriented song on his soul albums, Green began recording gospel music exclusively in 1980. Four years earlier, he had opened his own church, the Full Gospel Tabernacle, in Memphis.
It wasn't until Green switched to gospel music that the Grammy Awards began pouring in, even though these works, according to McDonough, were inferior in comparison with mid-1970s soul classics such as "Love and Happiness," "Let's Stay Together," "Tired of Being Alone," and my personal introduction to Green in 1974, "Sha-La-La (Make Me Happy)."
In 2003, while still pastoring Full Gospel Tabernacle, Green shifted back to pop music. By March 2006, when I attended an Al Green concert at Chicago's House of Blues, his playlist was a mixture of soul and gospel, though his finest moment that evening was a heartfelt rendering of "Amazing Grace."
Soul Survivor is more than a critical and historical biography of Al Green. It also functions as a welcome history of Hi Records, the scrappy Memphis indie that lived in the shadow of its better known competitors, Sun and Stax. Since Willie Mitchell, producer and head of Royal Studios, was the heart and soul of Hi Records, this book is also Willie's biography.
For Mitchell, recording was about keeping things simple. Under his tutelage and direction, the multi-racial Hi Rhythm band of musicians stayed in their own respective groove rather than try to outplay one another. Their understated musical style propelled the careers of Green and a score of others, among them former gospel singers O. V. Wright and Otis Clay.  Mitchell's KISS mantra serves as a lesson for today's overproduced pop music. As Hi musician Reuben Fairfax Jr. tells McDonough: "Music used to be finesse. Now music is power."
McDonough's writing is conversational and filled with humor, as if he is sitting with friends over rounds of drinks, regaling them with a litany of can-you-believe-it stories about Green, Mitchell, Hi Rhythm, Green's touring Enterprise Orchestra, and a passing parade of Green girlfriends and wives. At the same time, McDonough's findings are grounded in research and given proper attribution.
The blue language of the musicians is not censored from the original interviews, which gives the reader an honest portrayal of Royal Studios as a technically rag-tag but musically brilliant incubator fueled on cigarettes, booze, and very little sleep. In the process, Royal and Hi produced some of the grooviest and most slow-danceable music the 1970s had to offer.
If after finishing Soul Survivor, you come away not comprehending who Al Green really is, don't worry—Green really doesn't want you to know. What you do get is an impression of an artist whose life is a mixture of insecurities, incongruities, and inexplicability, but also transcendent moments of pure genius.  And, as McDonough believes, Al Green is "still capable of producing another masterpiece."
Four of Five Stars
Written by : Bob Marovich
Bob Marovich is a gospel music historian, author, and radio host. Founder of Journal of Gospel Music blog (formally The Black Gospel Blog) and producer of the Gospel Memories Radio Show.