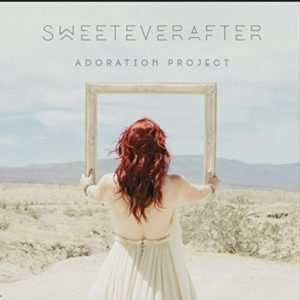 SWEETEVERAFTER
Adoration Project (EP)
(release date: February 2, 2018)
www.sweeteverafter.net
By Bob Marovich
Nearly ten years ago, husband-and-wife team Ammee Pearl and Jay Huzil formed SWEETEVERAFTER, a Christian group with a hard rock center. They earned a Metal Song of the Year nomination from the Hollywood Music in Media Awards.
The duo's latest release, the Adoration Project EP, is decidedly mellower than their earlier output. They set aside their electronic gear to hone in on the nitty gritty of some urgent messages.
Huzil's acoustic guitar leads a low-key ensemble of strings, soft percussion, piano, a flute that floats around the music, and the high, lonesome twang of a steel guitar. Pearl's voice evokes Jewel Kilcher in its reflective and earnest resonance.
While some songs, such as the gorgeous "Abandoned" and the breezy "How Beautiful" are love ballads to the Most High, two tracks tackle current affairs head on. Pearl's "Desperate for Love," written in the aftermath of the Boston Marathon bombing, wears the residue of the tragedy in lines such as "when the world explodes all around me," "when the blood is spilled, flowing like a flood," and "as our hope in all we see comes crashing down." To a march tempo, the aptly-titled "American Prayer" is a folk elegy about the sorry state of a country that once pinned its beliefs on, and shed its blood for, "In God We Trust," but has "lost its way." SWEETEVERAFTER doesn't reference any specific tribulations, but "flattery of pride," "technology slaves," and "buildings, they are tumbling down" give the listener reference points for reflection (so get out there and vote).
If the melodies and arrangements on Adoration Project don't vary much from a lovely, lilting acoustic filament, the lyrics are poignant and pointed.  It's as much an admonition to humanity as it is an adoration of God.
Four of Five Stars
Picks: "Abandoned," American Prayer."
Written by : Bob Marovich
Bob Marovich is a gospel music historian, author, and radio host. Founder of Journal of Gospel Music blog (formally The Black Gospel Blog) and producer of the Gospel Memories Radio Show.