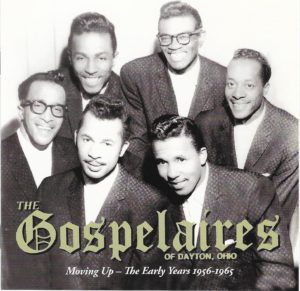 The Gospelaires of Dayton, Ohio
Moving Up – The Early Years 1956-1965
Gospel Friend (release date: November 17, 2017)
www.gospelfriend.com
By Bob Marovich
The Gospelaires of Dayton, Ohio, were one of the hardest singing quartets on the gospel highway during the genre's storied golden era. The quartet was part of touring packages that crisscrossed the country.  They eventually made it to the stage of the Apollo Theater and across the ocean to Europe.
But as popular as the Gospelaires were, scant attention has been paid to them in the CD reissue market. It's no surprise that Per Notini's Gospel Friend label, the most ardent revivalist of gospel singers and groups that were yesterday's headliners, is the first to release a commercial CD comprised entirely of Gospelaires' singles and album tracks.
Moving Up – The Early Years 1956-1965 focuses on the first decade of the Gospelaires' recording history. In addition to making such time-honored tracks as "Ride This Train" and "Rest for the Weary" available to the digital generation, Moving Up is the first known collection to include the Gospelaires' rare first recording on the Texas-based Avant label: 1956's "We Are Marching Together" / "Some People Never Stop to Pray."
What one hears on the Avant disc is a group still searching for its own voice distinct from then-reigning quartets such as the Violinaires, the Golden Gate Quartet, and the Sensational Nightingales. They find it in the incendiary lead vocal work of Bob Washington, Paul "Easy" Arnold, and Melvin Boyd; the staff-leaping falsetto of Charles McLean; and Robert Lattimore's rhythmic booming bass voice and stinging electric guitar accompaniment. The group waxed one superb side after another for Peacock Records, a label they would stay with for some twenty years.
Among Moving Up's most salient tracks—electrifying examples of the Gospelaires at their apex—are "Sit Down Children," "He Heard Me Cry," "I've Got It," and "Trouble No More."  After listening to Washington and Arnold trade leads on "I'll Be So Glad," one can only imagine what it must have been like to see them live.
The album notes, written by yours truly, represent the first extended history of the group. Compiled primarily from interviews and contemporaneous newspaper articles, the essay traces the Gospelaires' origins from Dayton's Edgemont area, a destination for southern migrants moving north to work in the burgeoning manufacturing sector, to its shift to Miami, where the current iteration is led by longtime member Bill Allen.
Moving Up demonstrates why the Gospelaires grew beyond the confines of Dayton, Ohio, to become one of the nation's top quartets of the late 1950s and 1960s.
Five of Five Stars
Picks: "Some People Never Stop to Pray," "Ride This Train"
Written by : Bob Marovich
Bob Marovich is a gospel music historian, author, and radio host. Founder of Journal of Gospel Music blog (formally The Black Gospel Blog) and producer of the Gospel Memories Radio Show.