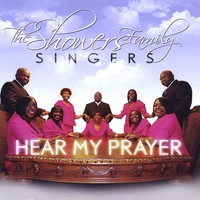 The Showers Family Singers
Hear My Prayer
Aquila and Priscilla Records (2010)
www.cdbaby.com/cd/sfgs
Ten siblings – ten! – who are the offspring of a pastor and his missionary wife from Louisiana blend their voices as The Showers Family Singers.
Their star is on the rise, as they won Best Traditional CD of the Year at the 2010 Ensound Music Awards for their eleven-track debut Hear My Prayer, and are nominated for three Rhythm of Gospel Awards.
Hear My Prayer introduces a larger audience to their straight-ahead mix of contemporary, praise and worship and traditional gospel performance styles.
And it's a decent debut because they pour every ounce of energy they have into it. The group's affinity for high-intensity contemporary gospel comes through loud and clear in the opening tracks, most especially on "Jesus' Blood" and "Jesus You Died." The group's traditional roots show on the up-tempo classic "God's Got It," complete with quartet guitar riffs, and "Hooked On Jesus." In an ironic twist, the old congregational chestnut "On the Battlefield" has a funkier feel than one is normally accustomed to hearing.
There seems to be plenty of talent on the Showers Family bench, too, as various members step up to share lead duties throughout Hear My Prayer.
A nice surprise was hearing the ensemble cover Wynona Carr's "Our Father," titled "Amen" on the project. They use the Original Five Blind Boys' 1950 arrangement, too. Despite its popularity at the time, this masterpiece is all too infrequently reprised.
The CD concludes with "Save a Soul," which in addition to serving as the Showers Family Singers' farewell to its listeners, it includes their mission statement: their work is not for naught "long as our ministry saves some lost soul." Amen.
Three of Five Stars
"God's Got It," "Amen."