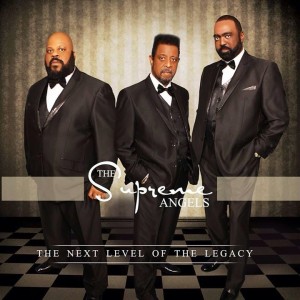 The Supreme Angels
The Next Level of the Legacy
Raymarkable Music (release date: March 10, 2015)
By Bob Marovich
The Supreme Angels are among the quartets that have managed to remain active on the gospel highway, albeit with personnel changes, for more than a half century. Released this week, The Next Level of the Legacy is their newest, and appropriately titled, album. Appropriately titled because it signals the group's commitment to keep singing in a post-Howard "Slim" Hunt milieu.
The passing of Hunt, as well as of Robert "Sugar" Hightower and Al Dent over the course of five years, could have signaled the end of the Milwaukee-born quartet. But Gregory Kelly and Michael Kimpson were determined to keep the group in play and this album is proof positive that their decision was a sound one.
The ten radio-size selections represent a fine mix of traditional and neo-traditional material. The songs are buoyed along by loping tempos that support a smooth veneer of harmony and prominent electric piano. While the "Supreme Angels Medley" is a reminder of the group's estimable back catalog, songs such as the energetic "In the Room," the cautionary tale of "Get Right With God," and a stripped-down version of Kenneth Morris's "My God Is Real" bring into the 21st century the churchy sound that has brought the group this far.
Perhaps most interesting is the countrified flavor of two tracks, "Prodigal Son" and "Go Rest High on the Mountain." The former is a heartwarming, beautifully-sung reflection on modern-day redemption. It is gratifying to see a gospel group cover country singer Vince Gill's extraordinary 1995 "Go Rest High on the Mountain." Like "Will the Circle Be Unbroken," "Go Rest High" ponders acute family loss and the ritual of letting go. The harmonies of "Go Rest High" are so rich I would have loved to hear the Supreme Angels do one chorus a cappella. Perhaps they can fulfill this in live performance.
Produced by Ray Braswell and released on his Raymarkable Music imprint, The Next Level of the Legacy is like listening to stories and lessons told by beloved friends.
Four of Five Stars
Picks: "Get Right With God," "In the Room."