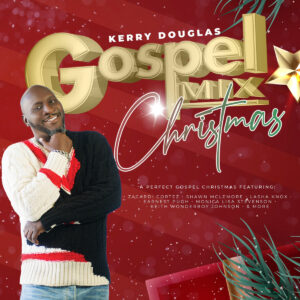 Various Artists
Kerry Douglas Gospel Mix Christmas
Blacksmoke Music Worldwide (release date: November 5, 2021)
By Robert M. Marovich
It's that time again—Christmas songs and albums are hitting music reviewers' inboxes. Among the earliest is a Kerry Douglas holiday celebration, an extension of his popular and longstanding Gospel Mix franchise into the Yuletide trade.
Co-produced by Chicago's own Gregory Gay, the project offers up new and familiar Christmas songs by artists signed to Douglas's Blacksmoke Music Worldwide.
The album's best tracks are gospel arrangements of classic Christmas carols and songs. For example, powerhouse vocalist Monica Lisa Stevenson renders "Have Yourself a Merry Little Christmas" with such ease one might think it was written specifically for her. "Oh Come All Ye Faithful" pairs crooner Earnest Pugh and quartet shouter Lisa Knowles. Surprisingly, it's Pugh who does the hard singing and Knowles who sticks close to the melody. A smooth "Joy to the World" comes from Shawn McLemore and Zacardi Cortez. McLemore's participation on the album (he also duets with Cortez on "Christmas Day") is bittersweet, as the talented singer passed away last month at age 54.
Pastor LaSha' Knox leads a lovely and melismatically-rich "The First Noel," while Nikki Ross interprets the same carol but with a background of layered voices a la Take 6. Rather than repeat a song, perhaps either Ms. Knox or Ms. Ross could have supplied another carol for the project.
A few non-traditional songs, like Knox's "Give Me Jesus" and James Johnson Jr.'s "Christmas Time is Here Again," riff on the importance of keeping Christ in Christmas. Then there's Cedric Ballard's "Agnus Dei," not one of the classical versions of the Latin hymn but a quite affecting selection, nevertheless.
"Jesus Celebration," with Paul Turner and CMI featuring cracking great lead vocals by Pastor Angie Spivey, is the single. It has the relentless drive of Chicago gospel choirs and, as such, can survive on radio well beyond Christmas.
The album ends on the highest note possible with Keith "Wonderboy" Johnson and the Spiritual Voices' driving quartet-style version of "Twelve Days of Christmas," complete with verses that reference the church and gospel singing. It's an ideal arrangement for choirs and quartets alike completing their November and December programs.
Four of Five Stars
Picks: "Have Yourself a Merry Little Christmas," "Jesus Celebration," "Twelve Days of Christmas"
Written by : Bob Marovich
Bob Marovich is a gospel music historian, author, and radio host. Founder of Journal of Gospel Music blog (formally The Black Gospel Blog) and producer of the Gospel Memories Radio Show.