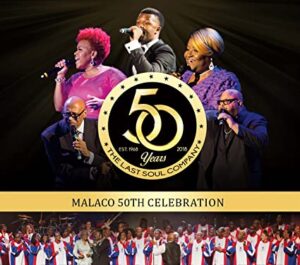 Various Artists
Malaco 50th Celebration
Malaco Music Group (release date: February 25, 2022)
www.malaco.com
By Robert M. Marovich
The nearly two-hour Malaco 50th Celebration two CD set (and companion DVD) is one of the best releases thus far this year.
Recorded live on July 12, 2018, at the record company's golden anniversary gala at Thalia Mara Hall in Jackson, Mississippi, the package pairs current gospel stars with classic songs from Malaco's gospel archives. Since the label owns the licensing rights to gospel music from such iconic labels as Apollo, Savoy, Atlanta International Records, Muscle Shoals Sound, GosPearl, and Onyx, it can pull from a catalog spanning nearly eighty years.
Though the artists put their own distinctive mark on the songs, they remain fairly faithful to the originals. For example, Kelontae Gavin offers a tour de force performance of the Thomas Whitfield arrangement of "Peace Be Still." Though on the CD the song fades, at the program it took several minutes for the audience to regain their composure.
On the quartet side, Keith "Wonderboy" Johnson takes the audience to church and "to Chicago" with the Pilgrim Jubilees' "Won't It Be Wonderful." Paul Porter brings a bounce to Willie Neal Johnson and the Gospel Keynotes' "Just a Rehearsal." With Dottie Peoples, Luther Barnes reprises his father's mega hit with Sis. Janice Brown, "Rough Side of the Mountain."
Bittersweet is hearing the now late LaShun Pace leading Reverend James Cleveland and the Charles Fold Singers' "Jesus is the Best Thing That Ever Happened to Me." Darius Paulk gives Donnie McClurkin and the New York Restoration Choir's "Speak to My Heart" a vocally robust treatment. Christina Bell tackles the Cosmopolitan Church of Prayer smash "Jesus Can Work it Out." The only person mission was the original lead Dianne Williams. Had she been at the fete, ascended the stage, and joined Bell with "baby needs a pair of shoes," the program would have had to shift to Doxology.
The one who steals the show is Bishop Paul S. Morton. Backed by the Mississippi Mass Choir, he croons a soulful "Near the Cross." Later, he reprises "Your Tears," recorded by the Truthettes, the O'Neal Twins with the North Jersey Community Choir, by Morton with his Greater St. Stephen Mass Choir, and others. A close second is the Mississippi Mass Choir itself, especially when Dottie Peoples and Mosie Burks duet on "This Morning When I Rise."
With artists like Ann Nesby, Dorinda Clark-Cole, Byron Cage, Tina Campbell, Lisa Knowles-Smith and the Brown Singers, Fred Hammond, and others bringing their best to some of gospel's most beloved selections, there's plenty to enjoy here.
Five of Five Stars
Picks: "This Morning When I Rose," "Peace Be Still," "Won't It Be Wonderful"
Written by : Bob Marovich
Bob Marovich is a gospel music historian, author, and radio host. Founder of Journal of Gospel Music blog (formally The Black Gospel Blog) and producer of the Gospel Memories Radio Show.