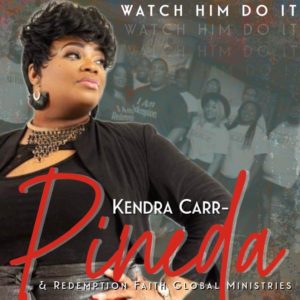 "Watch Him Do It"
Kendra Carr-Pineda & Redemption Faith Global Ministries
IndieBlu (release date: December 4, 2020)
Pensacola, Florida's own Kendra Carr-Pineda leads the singers of Redemption Faith Global Ministries, where she is pastor, on the double-time "Watch Him Do It."
From the outset, rapid fire drumming on the backbeat and electronic percussion set on "praise break" set the tempo, over which the effervescent Kendra and her singers emote about the goodness of God. If it hasn't happened yet, they instruct, don't worry: He made a promise to you and He's a promise keeper.
Every so often, Kendra and the team slip into an easier groove, but their vocal energy and message maintain momentum through each successive hard-charging musical wave. Even without the lyrics, one knows that the singers and musicians are abundantly grateful for promises kept.
Kendra Carr-Pineda's first national CD release, 2009's Unexpected Praise (as Kendra Carr), earned four of five stars by JGM. "Watch Him Do It" follows up on her 2019 single, "More."
Written by : Bob Marovich
Bob Marovich is a gospel music historian, author, and radio host. Founder of Journal of Gospel Music blog (formally The Black Gospel Blog) and producer of the Gospel Memories Radio Show.