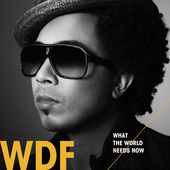 WDF
What the World Needs Now
Studio Cloud 30 (release date: November 10, 2015)
Available on iTunes
By Bob Marovich
I rarely award an EP or mini-album five stars because that puts extraordinary pressure on the full-length CD that inevitably follows to be as good, if not better, than the more diminutive project.  It's akin to giving a new artist a lifetime achievement award.  Where do you go from there?
But in the case of WDF's What the World Needs Now, however, I am making an exception.
Canadian gospel artist Warren Dean Flandez, known as WDF, has created a mini album that deservedly debuted #2 on the iTunes Inspirational Chart Top 100. Every one of the seven songs is exceptional. From the opening to the closing strains, the project oozes with catchy melodies and clever arrangements that blend traditional gospel with hip hop and urban contemporary sounds.
The songs are smart and delightfully retro while at the same time staying firmly in a modern groove. "Joy!" the current single that features Vancouver's Top Line Vocal Collective choir, is an infectious, soulful, handclapping ode of praise with a seething organ and an extended sanctified backbeat toward the end. "Never Dim My Light," with its march tempo, dares the evil in the world to stop someone who shines with the light of Christ inside.
The title track is seventies groovy but, more importantly, it gives WDF an opportunity to step onto the proverbial truck bed and preach the gospel of eliminating violence and war by spreading happiness—even trying "a little tenderness."
"Hear Me," a song about God's constancy, and the introspective "A Quiet Place" are mellow and acoustic, with deft guitar work in the latter and a touching violin in the former.
Let's hope we hear more of WDF in the future.  His brand of eclecticism with a solid spiritual foundation is what the gospel world needs now.
Five of Five Stars
Pick: "Joy!"
Written by : Bob Marovich
Bob Marovich is a gospel music historian, author, and radio host. Founder of Journal of Gospel Music blog (formally The Black Gospel Blog) and producer of the Gospel Memories Radio Show.