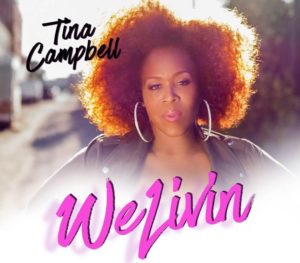 "We Livin'"
Tina Campbell
From the Gee Tee Creative / Malaco Records album
It's Still Personal (release date: September 29, 2017)
www.malaco.com
By Bob Marovich
Tina Campbell is "livin' that blessed life" but, as you'll hear, there's two interpretations of that statement.
On her latest single, "We Livin'," Tina, one-half of the Mary Mary gospel duo, sings that your high life isn't so high if God isn't a part of it. She acknowledges that people want to live big, garnering material wealth and respect, and she doesn't disparage it.  She herself has reaped rich rewards in her singing career.  But at the same time, she notes, if you have Jesus as your friend, "you've already got it" and "ain't nothing no one can do about it."
The song's R&B and hip hop drive makes the message of encouragement go down easy for members of the young generation who aspire to live large, and should, but not by selling their soul.
Last month, the effervescent video, directed by Derek Blanks, walked away with the Stellar Award for Best Video of the Year. If you haven't yet seen it, here it is.