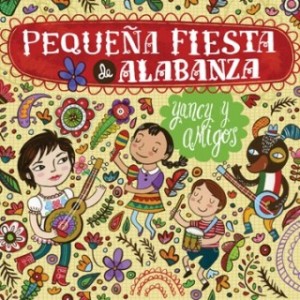 Yancy y Amigos
Pequena Fiesta de Alabanza (Praise Party)
Elevate Entertainment (2014)
www.yancynotnancy.com
By Bob Marovich
Christian singer-songwriter Yancy began writing kid-friendly songs for the littlest congregants at Church on the Move in Tulsa, Oklahoma.
Her "Little Praise Party" series of compact disc and DVD song collections caught on so well that she has, with able assistance from Christian music stars Jaci Velasquez and Nic Gonzales (two of the "amigos"), translated some of them into Spanish. Thus was born Pequena Fiesta de Alabanza.
This Spanish-language collection will certainly satisfy its intended demographic. It contains fifteen short, punchy songs bursting with energy. They are deliberately easy to learn, eminently singable, and decorated in sugary combo pop. Sometimes the guitars snarl, however, as on "Padre Abraham (Father Abraham)" and "Ir (Go)." The title track has a pop-country flair. All in all, I wish children's religious music was this hip when I was growing up.
Some songs will be familiar to all listeners—"Si Te Sientes Muy Feliz" is "If You're Happy and You Know It," and "Esta Lucecita" is "This Little Light of Mine"—while other songs are originals. The ballad "Dios Bueno Es (God Is So Good)" has a lovely, plaintive melody, and would be exceptional if sung a cappella and with cascading harmonies.
Pequena Fiesta de Alabanza offers Spanish-language praise songs for the cool kids.
NOTE: Yancy returns February 10, 2015, with Little Praise Party: Taste and See, the fourth release in the popular worship music series for young children.
Three of Five Stars
Pick: "Ir," "Dios Bueno Es."
Written by : Bob Marovich
Bob Marovich is a gospel music historian, author, and radio host. Founder of Journal of Gospel Music blog (formally The Black Gospel Blog) and producer of the Gospel Memories Radio Show.