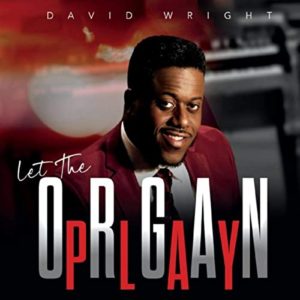 David Wright
Let the Organ Play
Godfather Records (release date: February 12, 2021)
By Robert M. Marovich
Typically, we hear Pastor David Wright leading the New York Fellowship Mass Choir. For Let the Organ Play, the choir takes a rest and Wright lights up the Hammond B3 to play an instrumental litany of church favorites.
The album's song selection includes COGIC favorites (a variation on the "Yes Lord" chant and the infrequently-recorded "This is the Church of God in Christ"), classic gospels and hymns, and contemporary pieces, such as "Oh Happy Day," the New Jersey Mass Choir's "Praise Him," and Rev. Dr. Clay Evans and the AARC Choir's hit from 1995, "I've Got a Testimony," here titled "Testimony."
Wright, who taught himself organ during a three-day shut in the same year Evans and AARC were cutting "Testimony," plays with a studied, straightforward proficiency. He's not one for lots of fancy showmanship; there are no memorable demonstrations of acrobatic keyboard technique outside of that friendly and engaging church bounce.
"It Is Well," "Holy Holy Holy," and "Amazing Grace" are among the hymns Wright plays. He mixes it up with a number of congregational favorites, such as "Power in the Blood" and "What a Fellowship" (aka "Leaning on the Everlasting Arm"). Overall, whether contemporary or traditional, Let the Organ Play has a way-back church feel.
The album would have been even stronger had there been a small rhythm combo to support Wright on some of the more up-tempo selections, such as "Highway to Heaven," during which Wright interpolates a snippet of that East Coast chestnut, "I'll Be Caught Up to Meet Him."
Overall, Let the Organ Play is the kind of album a church puts on the P.A. prior to a worship or song service or a gospel announcer uses for theme music.
When he is not on the organ or leading the New York Fellowship Mass Choir, Pastor David Wright is leader of Grace Tabernacle Christian Center Church of God in Christ in Brooklyn, NY. His father was the late Pastor Timothy Wright.
Four of Five Stars
Pick: "Highway to Heaven"
Written by : Bob Marovich
Bob Marovich is a gospel music historian, author, and radio host. Founder of Journal of Gospel Music blog (formally The Black Gospel Blog) and producer of the Gospel Memories Radio Show.