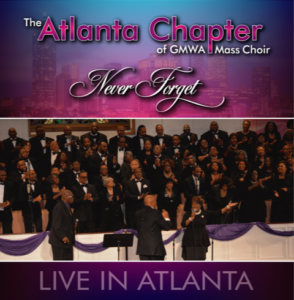 "Never Forget"
Atlanta Chapter of the GMWA Mass Choir
Aspire International Music Group (release date: February 22, 2020)
www.atlantagmwamasschoir.org
By Bob Marovich
The choir representing the Atlanta Chapter of the Gospel Music Workshop of America (GMWA) gives the classic Soul Stirrers hit from 1954, "Jesus I'll Never Forget," a distinctive choir-tet arrangement.
Joining the mass choir on lead vocals is GMWA stalwart Bishop Richard "Mr. Clean" White. White, squalling vocalist Evangelist Saundra Cepeda, and the choir take the listener back to what church used to sound like—but with a twist, courtesy of jazzy chords and chord changes in the bridge.
The song was recorded in Atlanta on February 23, 2019, and is the first single from the choir's live album.
The Atlanta Chapter was formed in 1976. The current Chapter Representative is Evelyn Ellis White. Assistant Chapter Representatives are Earnestine Gray, Ted Jeans, and Ralph Davis. The choir debuted the single at a release party January 6.
Written by : Bob Marovich
Bob Marovich is a gospel music historian, author, and radio host. Founder of Journal of Gospel Music blog (formally The Black Gospel Blog) and producer of the Gospel Memories Radio Show.