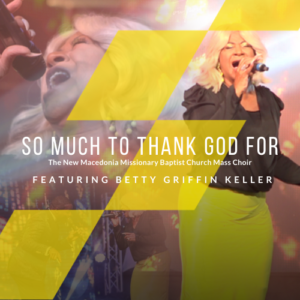 "So Much to Thank God For"
New Macedonia M.B. Church Mass Choir feat. Betty Griffin Keller
From the CD Faithful (release date: September 4, 2020)
https://mynmmbc.org/
By Robert M. Marovich
"So Much to Thank God For" is more than a vibrant throwback choral piece from the New Macedonia Missionary Baptist Church Mass Choir. It's also a testimony for featured vocalist Betty Griffin Keller.
Keller, a member of the Cleveland Singers, a soloist with the Southern California Community Choir, and a solo gospel recording artist, celebrates fifteen years of being cancer free. The abundant joy of life is evident in her voice, which has developed that robust richness that comes with wisdom and experience.
Betty is also first lady of New Macedonia M.B. Church in Altadena, California, where the pastor is the Reverend Billie R. Keller. The song, written by Earnest Pugh and Byron Cage, was produced by Keith Williams & Micheal Bereal.