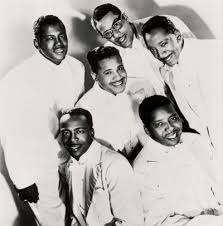 Philadelphia, PA, September 1, 2016 – September is Gospel Music Heritage Month, and on Thursday, September 29 at 2:00 p.m., the Blockson Collection of Temple University Libraries will present "Gospel Gold: The Golden Era of Gospel Music," honoring legendary Dixie Hummingbirds guitarist Howard Carroll.
Hosted by Gospel Highway Eleven (WNAP 1110 AM) Radio DJ Linwood Heath, the program will include gospel music by the Sons of the Birds and special guest speaker, the Reverend Joe Williams.
Howard Carroll, affectionately known as the "Father of the Gospel Music Guitar," is the oldest living member of the Dixie Hummingbirds gospel group. Mr. Carroll joined the Dixie Hummingbirds in the late 1930s after it was formed by manager James B. Davis in Greenville, South Carolina. In July 2016, Carroll was given the Gospel Guitar Award at the Jazz Legendary Awards reception, held at the Philadelphia Clef Club of Jazz and Performing Arts in Philadelphia. The event was hosted by Pennsylvania State Senator Vincent Hughes and his wife, Sheryl Lee Ralph-Hughes.
As one of the new Historical Markers approved by the Pennsylvania Historical and Museum Commission (PHMC) this year, The Dixie Hummingbirds Historical Marker is being considered for installation to coincide with the program honoring Mr. Carroll on September 29. If authorized, the dedication of the official state historical marker commemorating the The Dixie Hummingbirds will take place the morning of September 29 at 2435 North College Avenue in North Philadelphia. The text of the marker will read:
The Dixie Hummingbirds
Nationally recognized soul gospel music group, they were on the cutting edge of the genre for 30 years. Their cover of Paul Simon's hit "Loves Me Like a Rock," the original of which they recorded with him, won a Grammy Award in 1973. The band was featured in the NY Times and TIME magazine and they have influenced artists such as: the Temptations, Stevie Wonder and James Brown. The band was a recipient of a Pennsylvania Governor's Award for the Arts in 2006.
The Charles L. Blockson Afro-American Collection invites you to be a part of this significant occasion. RSVP to 215-204-6632 or blockson@temple.edu.
Charles L. Blockson Afro-American Collection
1330 Polett Walk (007-00), Sullivan Hall, 1st Floor, Philadelphia, PA 19122
Written by : Bob Marovich
Bob Marovich is a gospel music historian, author, and radio host. Founder of Journal of Gospel Music blog (formally The Black Gospel Blog) and producer of the Gospel Memories Radio Show.