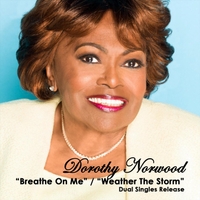 "Weather the Storm"
Dorothy Norwood
Dorothy Norwood Music Group (release date: June 4, 2018)
https://store.cdbaby.com/cd/dorothynorwood5
By Bob Marovich
Evangelist Dorothy Norwood goes into classic storyteller mode as she describes how a Houston, Texas, family is rescued from the roof of their home during Hurricane Harvey in 2017.
While the recency of the event undoubtedly touched the live audience, Norwood sees the story as more than recent history: it's a demonstration of God's assistance "in the nick of time," and a chance to shout "Hallelujah" for a successful ending. She peppers the song with lyric snippets about miracles, rejoicing, and joy coming in the morning. The former Savoy Records recording artist even quotes biblically-based lines from a couple of the label's classics, "The Storm is Passing Over" (Roberta Martin Singers) and "Peace Be Still" (James Cleveland and the Angelic Choir).
"Weather the Storm" lacks the audience-jolting oomph of Norwood's best story songs, such as "The Denied Mother" and "Johnny and Jesus," but it is still good to hear Dorothy Norwood singing and storytelling after more than sixty years in gospel music.