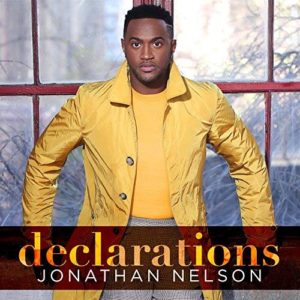 By Bob Marovich
In 1776, the Declaration of Independence freed American people from the oppression of the Royal Crown. In 2018, Jonathan Nelson's seventh studio album, Declarations, is intended to free all people for salvation under the Holy Crown.
The Stellar Award-winning singer and songwriter releases Declarations (Entertainment One) nationwide and through digital outlets today, Friday, September 14.
"I want the album to leave listeners inspired, encouraged, and empowered," Nelson told the Journal of Gospel Music. "If they sing these songs of themselves, they can see the results of what they say. If they say 'I'm healed,' they can be free from the cares of this world and what people say about them."
Nelson produced Declarations in partnership with Kenneth Shelton of KENHE Music. All but one of the album's twelve cuts were recorded live in Baltimore and Florida.
Released to radio earlier this year, the album's lead single, "I Agree," offers up the same Afro-Caribbean vibe that "Baba Oh" did for Nelson's last release, Fearless.
"I was in an African-based church in Toronto, Canada," Nelson explained. "First Sunday is called Thanksgiving Sunday and we just had an incredible worship experience. Song after song was in [the Afro-Caribbean] beat. I was listening to it and I thought, 'There's something I have to pull away from this!' I have traveled to Africa and many of the Caribbean Islands, and so 'I Agree' is a way for me to celebrate the culture of those places and to bring a piece of that culture here so we can experience it."
Nelson said that at its core, Declarations is a collection of messages to God that listeners can declare of themselves—and then experience the results of the songs in their own lives. In fact, he wrote "I Agree" to express what he believes is God's own impression of him and, by extension, God's impression of each living being.
"In church, we say yes to God," he said, "and sometimes our yes takes us to an unknown place through faith. When you say, 'I agree,' you are agreeing with what God says about you—although you don't know where that will take you. I wanted to have a fun way of saying yes to God. You can dance and celebrate your way through whatever trial and tribulation that may come."
Nelson said while the thematic linkage of the songs happened organically, he deliberately looked for a word that encompassed the theme. That word was "declarations."  It became the album title.
For vocal support and the occasional solo turn on Declarations, Nelson assembled a group of younger worship leaders he's been mentoring. "We don't have a name—we just do what we do!" he said. "A lot of them are interested in becoming [solo] artists themselves, so they are getting a behind-the-scenes look at what it really means to do this."
For this mentorship idea, Nelson acknowledged his own mentor, Donald Lawrence. "Donald has said that we become to help others become. I've reached a certain place in my life and career, so now I'm helping other people reach a certain place in their relationship with God and also in their musical journey."
He also cited Lawrence for teaching him about vocal technique and the importance of hiring gifted engineers. "You can have great music and great songs," he said, "but you have to pair them with a great engineer to help bring out those sounds."
In addition to spotlighting the talents of his group with no name, Nelson selected Anaysha Figueroa Cooper, the Brooklyn-based background vocalist for Kirk Franklin who he calls "a phenomenal singer and a phenomenal worship leader" to be a guest vocalist on "Jesus You Are Lord." BeBe Winans duets with Nelson on "Because You Are," a song Winans wrote specifically for the album.
Nelson plans to spend at least 20 to 30 days on the road promoting Declarations. Stops are currently scheduled in Atlanta, Chicago, Dallas, and Detroit. A CD release concert will be held September 15 in Nelson's hometown of Baltimore.  Release concerts are also slated to take place in Philadelphia and New York.
For the New York engagement, Nelson said he wants to "bring together some of New York's finest worship leaders, including Anaysha, because she's from Brooklyn. At some point we're all going to do something together."  He laughed.  "We just haven't figured out how we're going to pull it off yet!"  He is also planning a ten-day declarations journey, during which "we will ask people to declare what they want to see before the end of the year."
Of all the songs Jonathan Nelson wrote for Declarations, the one with the most personal message for him is "Jesus I Love You."
"It's such a simplistic message," he said. "If you love somebody, you should tell them that you love them. I am grateful for what Jesus has done for me, for my life, my family, and my career.  So I'm saying, 'Jesus I love you.'  I'm returning the love back to Him."
For more information, visit https://www.facebook.com/JonathanNelsonMusic/.
Written by : Bob Marovich
Bob Marovich is a gospel music historian, author, and radio host. Founder of Journal of Gospel Music blog (formally The Black Gospel Blog) and producer of the Gospel Memories Radio Show.