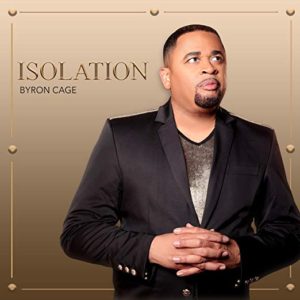 "Oh How Good It Is"
Byron Cage
From the Malaco / AIR Release Isolation
(release date: September 27, 2019)
www.malaco.com
By Bob Marovich
Byron Cage, designated the Prince of Praise for helping popularize Praise & Worship music in African American churches, opens his new single, the cheerful "Oh How Good It Is," with a declaration of praise.
He wants to be "in the presence of the King"—so much so that it makes him want to shout, holler, and throw up his hands. Not out of anger and frustration, like Marvin Gaye, but out of joy and gratitude.
Halfway through the song, Cage turns to the background vocalists and encourages them to do the same. They consent, and from there, Cage sings, preaches, and otherwise exhorts the assembly. The incessantly staccato piano keeps the praise party on a quarter-note track as the ensemble keeps on singing Chris Byrd's composition to the fade.
It's the bright and vigorous sound listeners have come to expect from Byron Cage ever since "The Presence of the Lord is Here."