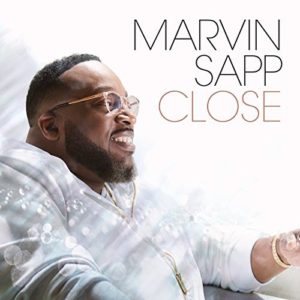 Marvin Sapp
Close
RCA Inspiration (release date: September 29, 2017)
www.rcainspiration.com
By Bob Marovich
Ever since 2007's Thirsty and its crossover hit, "Never Would Have Made It," a Marvin Sapp album release has become something of a special event. As a result, every one of his albums, starting with Thirsty, has hit the number one position on Billboard's Top Gospel Albums chart.
Close, released tomorrow on RCA Inspiration, is probably going to be the next number one for Bishop Sapp, whose muscular voice and aggressive delivery reminds me of his fellow Commissioned member, Fred Hammond.
The album, produced by longtime collaborator Aaron Lindsey, opens with the antiphonal "Safe In You." After a nearly two-minute introductory flourish of jazz fusion by the musicians, Sapp's husky voice enters, praising God for his constancy "no matter what they say." This suggests that Sapp's decision to go with God may not be popular but he doesn't care because, he intimates, he has first-hand experience of God's saving power.
Like "Safe in You," "He Is" rocks along in the spirit of Fred Hammond's funky rhythm and praise selections. Meanwhile, "You and Me Together" finds Sapp in the company of Erica Campbell and Izze Williams on a song with that perky beat that Kirk Franklin introduced into the gospel music lexicon with 2011's "I Smile."
"Listen," "Kind God," "Carried Me," and "Close" best demonstrate Pastor Sapp's ability to preach through song. The selections have depth of meaning and boots-on-the-ground urgency.  The message is that God can heal one from unbearable challenges, such as a lost job, illness, enemies praying for one's defeat, and a general discouragement over the wrong turns life takes. Sapp delivers the lyrics with the robust confidence that comes from pastoral experience.
Of course, everyone wants to know whether there is a new "Never Would Have Made It" or "The Best in Me" on the album. Time will tell, but to my ears, the single "Close" comes closest to the conversational style, prayerful expression, and sections of explosive singing found in its formidable predecessors. At the same time, the balladic "Kind God" is a compelling offer of gratitude to God who would think enough of us (individually and collectively, the implied "wretch like me") to sacrifice everything and die on a cross.
In fact, "Kind God" signals a change in mood on the album from energetic praise to prayerful worship. "Carried Me" has the Pentecostal touch in its slow but dynamic drive, and "All in Your Name" starts out like a hymn and ends like a gospel. Other strong selections, such as "Close" and "Face to Face" also follow "Kind God."
Close, particularly the album's second half, demonstrates Bishop Marvin Sapp's sustained ability to speak to a new generation of gospel music enthusiasts with personal messages that offer ways to overcome the daily indignities of life.
Four of Five Stars
Picks: "Kind God," "Close," "Carried Me"