From a press release:
AMERICAN BLACK FILM FESTIVAL (ABFF) TO FEATURE HIGHLY ACCLAIMED ROCK CAPITAL FILMS' "PASTOR BROWN"
VIP EXCLUSIVE SCREENINGS FEATURED ON JUNE 26TH FOR ABFF AND JUNE 28TH FOR THE CITY OF MIAMI
Rock Capital Films, CEO Steven Belser, American Black Film Festival executives and participants, industry leaders, VIP's, Celebrity guests and stars from the movie.
Film Life's 13th annual American Black Film Festival, June 24-27th in South Beach Miami, will feature Rock Capital Films' uplifting and inspiring movie PASTOR BROWN as its Centerpiece Premiere.
The film stars Salli Richardson-Whitfield, Nicole Ari Parker, Keith David, Michael B Jordan, Ernie Hudson, Michael Beach, Tasha Smith, Rockmond Dunbar, and Creflo Dollar.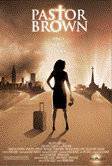 In PASTOR BROWN, Jesse (Salli Richardson) reluctantly returns home to face the family and now-teenaged son she left behind more than a decade ago. A powerful update of The Prodigal Son, PASTOR BROWN shows Jesse and her family working through the universal themes of forgiveness, restoration, redemption and unconditional love.
With a thought-provoking and motivational message at its core, PASTOR BROWN strengthens and empowers families. It gives viewers the hope and encouragement they need to look honestly at their own journeys. Audiences around the country have consistently called PASTOR BROWN "a must see."
ABFF VIP Screening: Friday, June 26th, 2009 (Time: 8:00 p.m. – 10:00 p.m.)
Colony Theater 1040 Lincoln Rd., Miami Beach, FL 33139
For more information, contact ABFF @ (646) 375-2144.