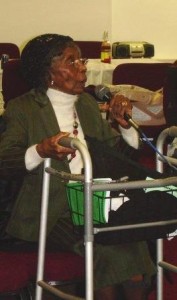 By Bob Marovich
JGM learned from Gregory Gay of GOSPELflava.com the sad news that Ms. Bertha Burley Melson, one of the stalwarts of the Chicago gospel music community, passed away.  She was 82.
Born in Chicago on March 4, 1933, Melson was a member of the famed Lux Singers, a gospel group founded by Beatrice Lux that at one time or another included a young Rev. James Cleveland and his sister, Iris; Rev. Dr. Clay Evans; Imogene Greene; Ida Mae Davis; James Whitehurst; and Jerome Burks.
The Lux Singers were "unorthodox," Melson said.  "Back then, folks sang real nice and smooth and slow, like any minute they were going to fall out and die! And us, we would jump around and sing."
Melson was also one of the earliest members of Fellowship Missionary Baptist Church, pastored by Rev. Evans.
As a Lux Singer, Melson would sing the quick tempo half of Evans's "By and By," a song covered by the Davis Sisters.  In later life, Melson was known for belting out "One Day at a Time" to an appreciative audience, while fully seated or holding onto her walker.
Bertha Burley Melson was a gem.  I sure will miss her, as will so many others.