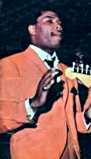 Gospel music authorities Rev. Lawrence Roberts and Gregory Gay informed TBGB that Elmo Franklin, an original member of the Mighty Clouds of Joy of Los Angeles, California, passed from labor to reward last week.
Franklin, Willie Joe Ligon, Richard Wallace and Johnny Martin were the four founding members of the Mighty Clouds of Joy. The quartet formed in the mid-1950s as a hard-shouting quartet in keeping with the style of the times, and through the intercession of RnB artist turned gospel DJ Brother Henderson, came to the attention of Peacock Records. There the quartet churned out hit after hit.
Working with the hitmaking production team of Gamble and Huff, the Clouds changed their sound in the mid 1970s to stay relevant in a genre moving toward a softer, jazzier vibe. The decision may have perplexed gospel music enthusiasts at the time, but proved ultimately to be a wise business decision. The Clouds were the first gospel quartet to appear on "Soul Train" and eventually became one of the most popular and best-known gospel quartets of all time, earning Grammy Awards, appearances on major television shows and motion pictures, and the opportunity to sing before U.S. Presidents.
Franklin, born October 8, 1936, was originally from Louisiana.
Homegoing services are scheduled to take place in Los Angeles. As additional information is available, TBGB will let you know.