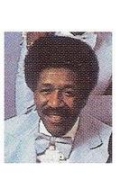 Thanks to Joe James of the Voices of Clouds and quartet promoter Mama Curtis and for information on the passing of Alfred "Gino" Smith, longtime member of the Gospel Keynotes.
Smith died in Rochester, NY on April 2, 2011.
Joe pointed us to the Democrat and Chronicle of Rochester for information on the homegoing services:
"Calling, TODAY (Fri.), 5-9 PM at Memories Funeral Home, 1005 Hudson Ave., Roch. (544-4929). Funeral Saturday, 11 AM at Rock of Ages-Christ the Good Shepherd Church, 1000 Winton Rd. North. Interment, Falls Cemetery."
Smith is survived by wife, Pat Smith; 3 sisters; 2 brothers; 6 grandchildren; 1 great-grandchild.