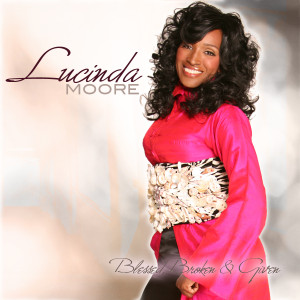 By Bob Marovich for
The Black Gospel Blog
.
Singer Lucinda Moore released her sophomore CD, Blessed, Broken & Given, in April. The album, recorded live at Atlanta's Elizabeth Baptist Church, is available on Tyscot Records, Moore's label home since 2006.
Moore spoke with TBGB about the new album (and companion DVD) and also shared reminiscences about her early days in gospel music.
It was as a child, growing up in the Fire Baptized Holiness Church, when Moore began developing her musical style.
"[Fire Baptist Holiness] has had a major impact on my sound," she said. "I have been developing my style since I was four years old. I believe in going back to your roots and just staying there, and using it in everything that you are doing. But I also listened to singers like Walter Hawkins and Tramaine Hawkins, and ended up backing Tramaine at the age of 17. These were the people who influenced my singing."
Lady Tramaine was more than a musical influence to the aspiring gospel artist.
"She's like a mother figure to me," Moore recalled. "Back then, everywhere I'd go, people thought I was her daughter because she and I looked so much alike! Tramaine was a wonderful tool in my life as far as getting to the place where I am now.
"When I started doing background for her at 17, I was a different person. I looked different, I was a young tomboy. Believe it or not, I wore a baseball cap, and at the time, when they had the gold tooth, I was wearing that, too. She made me take all of that off and she took me shopping and said, 'I'm going to teach you how to be dainty.' She put me in heels, she put me in girly skirts, I mean it was wonderful. And I have been like that ever since. Now you can't get me out of that skirt now! I love dressing and I love looking good, but I don't do it for other people, I do it for myself."
Moore also described how the single, "Blessed, Broken & Given," not only ended up on the new album but also served as its title and first single.
"At the time of the live recording, my producer [Robert "JoJo" Hill] presented me with a song, 'Blessed, Broken & Given.' I thought about that song, I listened to the words of that song and found that it ministered to my 'right now,' at that moment. At the time, I was going through a divorce and it really touched my heart. So I told [Hill], we have got to put this song on the CD. It ended up becoming the title of the project and the first single."
Like every artist, Moore hoped her album would do well, but even she was surprised that it ministered to so many people. "Even today, I have gotten a few emails about the CD. Every time I go to a church, there are people in the congregation that tell me, 'I was going through some things and I put on your CD and it really ministered to me,' or 'It changed my whole atmosphere,' or something like that. It's just amazing how it touches peoples lives all over the world."
Blessed, Broken & Given
has the pacing of a praise and worship service. "The people that were there – the singers, the band, everybody – it was a worship experience at the live recording. It was so amazing. Even the pastor of the church said, 'We have never experienced anything like this before.' Watch the DVD and you will see what I'm talking about."
What does Moore want the listener to learn from the project?
"I want them to walk away knowing that there is healing in the atmosphere," Moore said. "Whatever you are going through, if your heart is still broken, if you have been battered and abused, if you've been raped or molested, know that there is healing. God has healing for you. You don't have to stay in the hurt and the pain that you are in right now. I believe that by just listening to the music and the words that you will be immediately healed, without anybody laying hands on you."
What has Moore learned during her own period of hurt and healing?
"Life has taught me to forgive," she reflected. "That was the number one thing I had to do with everything and everybody who has hurt me in my life. I had to learn how to forgive and move on. If you stay in the past, you will never be able to get to your destiny. You have to forgive in order to move on with your life. You can't stay there.
"I have to look at myself in the mirror and say, 'Lucinda, get busy for the kingdom. Stop thinking about everything that has happened to you, stop giving yourself a pity party, and you are not a victim.' I have to keep telling myself, 'You are not a victim. Get up and get working for Christ.'"