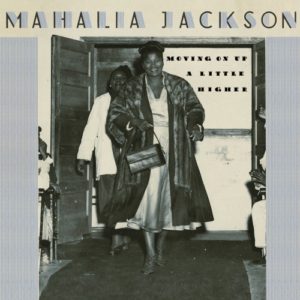 Mahalia Jackson
Moving On Up a Little Higher
Shanachie / Spirit Feel (release date: September 30, 2016)
www.shanachie.com
By Bob Marovich
Moving On Up a Little Higher may well be the finest collection of Mahalia Jackson selections ever released, and ranks among Anthony Heilbut's best produced music projects to date.
It's certainly the most historic gathering of Mahalia's work. When I say this CD of 22 previously unreleased tracks covers 1946 to 1957, hardcore traditional gospel music fans will know what I mean. This is the Queen of Gospel Music in her prime—no Mitch Miller, no Percy Faith. Better yet, the tracks are not from unissued commercial records but from radio and television appearances, and live programs in a variety of venues, serving a variety of audiences.
Often accompanied only by piano on these tracks, Mahalia shouts the glory down with a conviction rarely captured on her commercially available records. What you hear is the earthy Mahalia who delighted churchgoers during her "fish and bread" singing days, the Halie that growled, shouted, clapped hands when the spirit led her, and filled in the spaces between lyric lines with interjections of church-worn phrases and exclamations to give the song extra motive force. The Mahalia that some of the more musically polished groups initially twisted their faces at and made pastors nervous because her singing could upstage their sermon.
The first half of the collection is given over largely to nine Mahalia performances at the 1957 Newport Jazz Festival. These recordings were originally produced by the Voice of America and have such pristine sound, it seems as if the singer is right there in your living room. At one point during the Newport program, Mahalia asks the audience for requests, and the audience shouts back: "Upper Room!" It's gospel's "Free Bird" moment, and Mahalia obliges by singing the chorus of "In the Upper Room," sans the Selah Jubilee Singers/Larks, who backed her on the 1952 Apollo single. The nine cuts comprise a recital in which Mahalia enjoys sharing her gospel music with a racially-mixed and uniformly appreciative audience.
Another rarity available only on this CD is Mahalia at home on Indiana Avenue in Chicago, 1955, lining out "Dark Was the Night and Cold the Ground." In the 1920s, Blind Willie Johnson moaned the piece in his gravelly voice, sounding for all the world like the soul of man in the throes of eternal agony. Here, Mahalia sings the song as a chillingly mournful lullaby. She also lines out "Father I Stretch My Hand to Thee," giving the listener a sense of what Mahalia could do without accompaniment. These home recordings come from rehearsal tapes made by jazz historian and collector William Russell and now reside in the William Russell Jazz Collection at The Historic New Orleans Collection museum and research center.
A particularly thrilling moment captures Mahalia in 1948 at Greater Harvest Baptist Church, then pastored by Rev. Louis Boddie, where she performs her relatively new gospel hit, "Move On Up a Little Higher." Each time Mahalia sings a line, the listeners respond with joyous exclamations: the lady preacher and her congregation. No wonder some pastors were nervous.  This track comes from a collection housed at the Indiana University Archives of Traditional Music. It was originally recorded by ethnomusicologists Melville Herskovits and Richard Alan Waterman while studying African American churches on Chicago's South Side. So many original Herskovits recordings have perished due to deterioration over the years, despite Indiana University's heroic efforts to restore them. Thankfully this one did not meet that fate.
Captured at a 1951 program at Chicago's Wendell Phillips High School auditorium, Mahalia prefaces "Savior More than Life to Me" (aka "Every Day and Every Hour") with a spoken introduction that evokes the formality of Eugene Smith's famous narratives for the Roberta Martin Singers.
The sole television moment on the CD (1956) contains the most musical accompaniment. Mahalia sings Doris Akers' "There's Been a Great Change in Me" to such a propulsive beat that it is easy to see how gospel music helped influence rock and roll.
The earliest recording on Moving On Up a Little Higher is a homemade acetate of a 1946 New York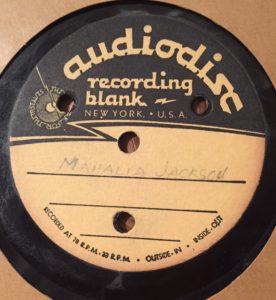 church radio broadcast.  Mahalia is one of the musical guests, building "Beams of Heaven" to a moving crescendo. Heilbut's engineer Jonathan Duckett did a remarkable job restoring as much of the sound quality as possible (I know – I own the original acetate (pictured, right); the other side features the Two Gospel Keys on the same radio program).  This may well have been recorded while Mahalia was in town to make her first records for Apollo, because the radio emcee has to qualify her as "Mahalia Jackson of Chicago, Illinois."  As Heilbut writes in the excellent liner notes, a year later, the "…of Chicago, Illinois" would not be necessary.
Perhaps the most historic moment is hearing Mahalia sing with Professor Thomas A. Dorsey, a teaming never captured on a commercial disc. Once again, it's 1955, and William Russell records the reunion of the songwriter and song plugger at Mahalia's home.
Listening to these performances of Mahalia Jackson is about as close as one can come to hearing gospel music in its raw, unfettered glory.
Five of Five Stars
Picks: "Getting Happy in Chicago," "There's Been a Great Change in Me," "The Reunion with Thomas A. Dorsey."