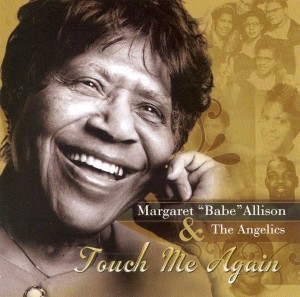 TBGB learned from Linwood Heath, Eric Scott Reed and Charlie Horner that the great Margaret Allison, organizer of the famed Angelic Gospel Singers, went home to be with the Lord this morning, July 30 at 4:45 a.m. in Philadelphia, PA.
Ms. Allison's eldest granddaughter, Monica Allison, confirmed the sad news.
Monica asks that all cards and condolences should be sent to:
4937 Catharine Street
Philadelphia, PA 19143
"Gospel Memories" will pay tribute to Ms. Allison during its September 7 show by rebroadcasting the interview we conducted with her some years ago. She was a lovely person and a gifted singer. I, for one, will miss her.
Check out a well-written biography and great photos of the Angelic Gospel Singers on Charlie and Pam Horner's www.classicurbanharmony.net.
UPDATE: this is the remembrance created by Monica Allison:
Margaret "Babe" Allison passed away on Wednesday July 30, 2008 in Philadelphia PA. She was born September 25, 1921 in McCormick, SC. Babe, as she was known, formed The Angelic Gospel Singers with sister Josephine McDowell, Ella Mae Morris and Lucille Shird based on a dream she had in 1944. The group gained notoriety in 1947 with the classic, "Touch Me Lord Jesus" In 1950, the group recorded with the Dixie Hummingbirds. In addition they sang with Mahalia Jackson, The Mighty Clouds of Joy, Slim and the Supreme Angels, Pastor Shirley Caesar, and many others.
Her legacy includes songs such as: the original composition of "Glory to the Newborn King" which is a Christmas Classic, "This Old Building Keeps on Leaning", "I Hope It Won't Be This Way" which was written by her daughter in law, Barbara Allison, "If You Can't Help Me,", and most recently, "Thank You For My Storms", which was released on her latest and last CD, Touch Me Again.
Babe spent 74 out of her 86 years in gospel music. She was the eldest living female gospel artist still traveling and performing. Her legacy will be her music. Her life's story was in the title of her songs. Babe was instrumental in endowing others with strength and courage through her music. She was the elegant lady who will always be known for her beautiful smile and demeanor. Her faith in God and His promises to her were unwavering.
Margaret Allison leaves to mourn her son, Melvin Floyd; his wife, Scarlette Floyd; daughter in law, Barbara Allison; brother, Robert Wells; 3 grandchildren, 3 great-grandchildren, 4 great-great grandchildren, nieces, nephews, cousins, and a host of other relatives and friends.
There will be no funeral, but a Memorial Service will be held Saturday Aug 9, 2008 at The North American Motor Inn, 444 City Line Ave, Philadelphia PA, 11am to 3pm.
Babe, you will be surely missed by millions of loyal fans both here and abroad. May you now rest in God's loving and caring arms, your race has been won.