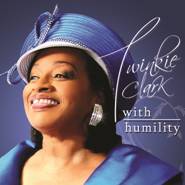 By Bob Marovich for The Black Gospel Blog.
Gospel music is, by its very nature, forward-looking, anticipatory.
Gospel songs are about keeping the faith and having hope, awaiting blessings, knowing that "troubles don't last always" and preparing for that Great Day in the Morning. The Gospel Train is moving and if you don't get on board, you'll be left behind. Ever moving forward.
Then again, gospel music makes room for reflection, to "look back and wonder how I got over." Therein lies the testimony.
Elbernita "Twinkie" Clark's new solo CD, With Humility, looks back and testifies about more than four decades in gospel music as a member of what is arguably the most prominent gospel music family of all time.
Twinkie recently spoke with TBGB about her beginnings and the new CD, which hits stores April 5.
She first started playing organ around age fifteen. Her mother, the late Dr. Mattie Moss Clark, was her first teacher, but she also took lessons from a music instructor in her hometown of Detroit. In addition to her mother, Twinkie's earliest keyboard influences were fellow Detroiters Thomas Whitfield and Ronald Kersey.
It was playing for untold numbers of Church of God in Christ revivals and at the COGIC annual convocations that really helped Twinkie develop her distinctive style that has earned her the title "Queen of the Hammond B3." "With my mother being President of the Church of God in Christ Music Department," Twinkie said, "I played for services, workshops, rehearsals and musicals. I got a lot of my training through playing at the conventions."
Twinkie also began writing songs at a young age. She said that the Clark Sisters' earliest material was written by their mother, but "after my mom saw that I was developing [as a writer], she began letting me teach some of the songs that I had been writing as I matured. By nineteen, I was becoming pretty good as a writer."
The first song Twinkie wrote was "Jesus Has a Lot to Give." "I got the inspiration from the old Pepsi Cola commercial, 'Pepsi has a lot to give.'," she said. Today, Twinkie has more than 150 songs to her credit.
One in particular, "You Brought the Sunshine," became a sensation and caused quite a stir in the church community.
"'You Brought the Sunshine' was inspired by Stevie Wonder," Twinkie explained. "He had a song called 'Master Blaster (Jammin')' that had a reggae-style beat. No one had ever done that in gospel, so I thought, let me try it. I came up with a little bass line, and then came up with the words and the melody. Thank God, it was played all over: in the secular stations, clubs, and it crossed over from gospel to R&B and some jazz stations.
"I never thought that would happen. I just wanted to add a little reggae style to gospel, and to my amazement, it did what it did. The DJs started picking it up and passing it along to others."
Some members of the church community were rankled that a gospel song became a danceable club hit. The consummate diplomat, Twinkie replied that "yes, we got a lot of feedback from the church, but thank God a lot of people were saved and touched by it." Today, "You Brought the Sunshine" is among the 100 most influential gospel songs of all time, according to The Black Gospel Blog.
Twinkie added that by being the first to cross over to the secular market in a big way, Edwin Hawkins' "Oh Happy Day" "kind of paved the way for 'You Brought the Sunshine.'"
With Humility is Twinkie's first solo outing since the Clark Singers' 2007 Live: One Last Time (EMI Gospel), a project which earned the group a Grammy and a hit single in "Blessed and Highly Favored." The new CD is a retrospective on Twinkie's family and her journey in gospel music. "It has let me reflect back on how I was raised and how I got started in music," she said, "with my dad being pastor and my mom being so involved with church and choirs."
As such, "The CD has a little bit of everything. There's a good choir song. We have something for the older people, such as 'Precious Lord.' We also have contemporary-style music for the young people, with a little hip hop gospel. I do a duet with my nephew Larry Clark, who produced the CD, and an instrumental on the organ. The Clark Brothers also sing on the CD."
The album's first single is the "good choir song," the rousing "God's Got a Blessing."
Perhaps the most interesting selection, "A Tribute," teams Twinkie and her mother, the late Dr. Mattie Moss Clark. Twinkie explained: "There's an old tape we found of my mom's in the house. She used to keep [tapes] by her bed at night. We found the tape with her doing some writing, but she never finished the song. She just sort of hummed the melody. So we took that tape and recorded it professionally, and I did a line of the song with her. It's kind of like what Natalie Cole did with her father ["Unforgettable," with Nat Cole]."
Twinkie assures her fans that "the old Twinkie Sound" is present on With Humility. What is the Twinkie Sound? "It is a church service or a good musical with a little bit of Thomas Whitfield flavoring, mixed with Dr. Mattie Moss Clark's style. It's a little contemporary and good churchy sound mixed together."
With Humility is on Larry Clark Gospel Records and distributed by Central South Distribution.