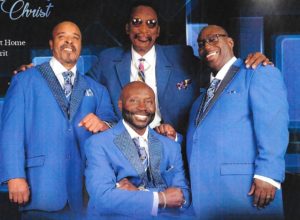 Bishop L. L. Pittman &
The Sons of Christ
(self-titled EP, 2016)
LEPITT Records
By Bob Marovich
Bishop Lenzo L. Pittman and the Sons of Christ are house hunting, but not on this planet.
On "Mansion," from the Stockton, California quartet's self-titled four-track EP, the men are busy picking out their forever homes from the "many mansions" on high. "I don't even know what color my room will be / Don't even know what size it will be," but it "belongs to me," Bishop Pittman sings.
The Sons of Christ—Bishop Pittman, Bishop David Cusic, Eddie Robertson, Johnnie Galloway, and Samuel Sadler—has a confident, relaxed style that enables the group to eke every ounce of utility from a gospel song.
"Mansion" is not the quartet's only reflection about the hereafter. "When We Get Home" is another evocation of an eternal utopia where there is "no more crying, no more dying."
The final selection, "Feel the Spirit," is the EP's sole driver. This congregational-style call and response is given a quartet backbeat. The group slips on its shouting shoes and sends the listener out with a hallelujah.
Bishop Pittman gives this brief introduction to the Sons of Christ the proper production balance between lead vocals, harmonies, and musicians. The group has secured several 2017 Rhythm of Gospel Award nominations.  For those who prefer nice and easy quartet singing, the Sons of Christ fills the bill.
Three of Five Stars
Pick: "Mansion"