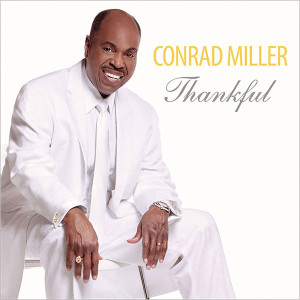 Conrad Miller
Thankful
Millcon Music Ministries (release date: January 15, 2016)
www.conradmillermusic.com
By Bob Marovich
If you don't know Conrad Miller from his relatively newfound career in the sacred music field, you may remember him as a member of 1970s smooth soul groups the Soulful Seven or the Softones.
Miller's throaty croon that helped to float the Softones' "Carla, My Love" onto the airwaves can be heard on his latest gospel album, Thankful.
Like his previous release, Keep Pressing, Thankful rides in a musically conventional lane.  True to the album's title, most of the songs contain straightforward lyrics of praise and thanksgiving, which Miller renders with a mixture of inner soul and cultured vocal training. His conservative style, dapper demeanor, and overall professional polish are among the reasons Miller is called the "Distinguished Gentleman of Traditional Gospel Music."
All but one of the album's eleven selections come from the pens of three gospel veterans: Stellar Award-winning Minister Earl Bynum, John P. Kee alumnus Garland "Miche" Waller, and Martin Luther Wardlaw of the Wardlaw Brothers. Gospel executive Glyne Griffith, who helped write for Robert E. Person's 2015 Love Divine, contributes "Raise Up," a song that recommends praise and prayer as the best antidotes for life's problems.
Wardlaw's "Save One For Me" has the catchiest lyrics of the collection; to a gospel quartet feel, Miller asks the Most High, who bestows blessings with bounteousness, to "save one blessing for me."  It sounds like a song the Williams Brothers would have done in the 1980s. "So Good," an old-fashioned call and response written by Waller and featuring his vocals and harmonizing by the quartet ReBorn, is the album's other traditional selection.  Bynum's "Caught Up" captures well the contemporary choir sound, though no BGVs or musicians are explicitly identified in the album notes—thanked, but not credited.
To my ears, Conrad Miller's 2009 My Journey with its echoes of Philly-style soul suggests where the singer's distinct advantage lies, especially in a sacred field crowded with inspirational crooners.
Three of Five Stars
Picks: "Save One for Me," "So Good."