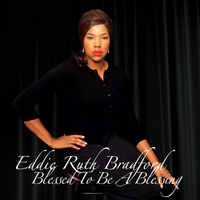 "Gonna Tell the World About You"
Eddie Ruth Bradford
From the CD Blessed to Be a Blessing
www.eddieruthbradfordmusic.com
Eddie Ruth Bradford's latest single is deliciously old-school, complete with whirring organ, funky backbeat, and multi-tracked quartet of voices on the chorus.
By referencing Bible stories that demonstrate Jesus's ability to give eyesight to the blind and heal the sick, she sends encouragement to listeners struggling through life's trials.
Bradford evokes Mavis Staples with her world-weary contralto, as does the deep and rootsy arrangement supporting her.
The Stellar-nominated Bradford hails from Clarksville, Mississippi. She sang with her family group as a child and had dreams of singing gospel music professionally. It wasn't until a few years ago, when she sang at her grandmother's funeral and had many people encourage her to sing professionally, that she took the plunge.