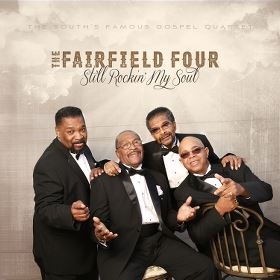 The Fairfield Four
Still Rockin' My Soul
Fairfield Four Records (2015)
www.thefairfieldfour.com
By Bob Marovich
In 1925, when the Fairfield Four organized in Nashville, Tennessee, quartet singing was done a cappella. No instruments, just the human voice.  And God saw that it was good. No–great.
Over the years, quartets added to the mix an ever-expanding combo of guitar, piano, organ, drums, electric bass, and synthesizer until the music threatened to overpower the vocal harmonies. Whether or not you are a fan of quartet singing with music, we can agree that there's something seriously magical about hearing a cappella vocal singing. The Fairfield Four has satiated this appetite in the twenty-first century with their new album, Still Rockin' My Soul.
Comprised of Levert Allison, Larrice Byrd Sr., Bobbye Sherrell, and Joe Thompson, the Fairfield Four delivers a handful of gospels and spirituals, such as "Baptism of Jesus," "My Rock," "Jesus Gave Me Water," and "Highway to Heaven." Allison even incorporates Sam McCrary's audience-pleasing vocal glissando on "Don't Let Nobody Turn You Around."
All but one track is done a cappella, with handclapping and Thompson's bass voice providing the rhythm. The sole instrument is an organ drone that supports the men who, like church deacons on Sunday morning, lift up the long meter standard, "I Love the Lord, He Heard My Cry."  Another surprise is when country star Lee Ann Womack joins the quartet for a joyous rendition of the Christmas spiritual, "Children Go Where I Send Thee."
While the original members of the group are long deceased, the new members capture the vocal color that once made the Fairfield Four one of the nation's most popular gospel quartets. Thompson, in particular, shows effective tutelage from listening to the Fairfield Four's iconic bass, Isaac "Dickie" Freeman.
The liner notes, penned by Jerry Zolten, not only provide a brief history of the Fairfield Four, but also reveal the current members' interesting connections to the original members. Incidentally, if a biography is to be written about the group, Zolten is the guy to do it. He had a hand in introducing the Fairfield Four to a wider audience in the 1980s. Thereafter, the reconstituted quartet went on to garner Grammy awards and made an appearance in the Coen Brothers film, O Brother Where Art Thou.
Still Rockin' My Soul was completed with financial help from a successful crowdfunding campaign. It's a sad commentary that a group with this much talent has to resort to crowdfunding, while pop artists who can only sing with the benefit of Autotune get major label attention. Nevertheless, I am glad the campaign was successful because this album is a solid reminder of the transformative power of human voices blended in harmony.
Five of Five Stars
Picks: "Baptism of Jesus," "Don't Let Nobody Turn You Around."