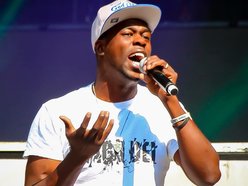 "Help Me"
Jerrell Golden (ft. Romane Scott)
From Imago Dei Records CD Jerrell Golden
(release date: July 30, 2017)
By Robert M. Marovich
Tappahannock, Virginia, holy hip hop artist Jerrell Golden preaches through his rhymes on "Help Me."
When people suffer from compassion fatigue in a world so cold that "July can be December," giving up is a tempting option. Others want to help but they cannot. That's because, Golden reminds the listener, "first we have to learn to follow before we can lead." There's a teaching moment.
Between Golden's stanzas is Romane Scott's pleading tenor, amplifying the feelings of frustration. Everything is grounded by a dramatic musical soundtrack courtesy of Anno Domini Beats.
Although Golden is better known for "B.Y.O.B." and "Humble," and has a new album out (Transparency), the 2017 album track "Help Me" has a timeless sound and message. Real talk tagged at the end with screaming guitar licks.
Written by : Bob Marovich
Bob Marovich is a gospel music historian, author, and radio host. Founder of Journal of Gospel Music blog (formally The Black Gospel Blog) and producer of the Gospel Memories Radio Show.