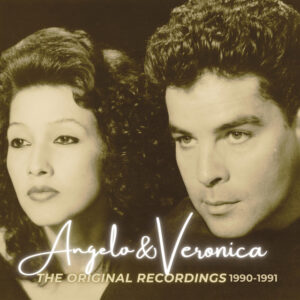 Angelo & Veronica
The Original Recordings, 1990-1991
A&V Music (release date: April 25, 2022)
www.angeloandveronica.com
By Robert M. Marovich
Christian music duo Angelo & Veronica's recent release, The Original Recordings: 1990-1991, could easily have been titled (with deference to Dylan) The Basement Tapes.
The twelve-track collection was recorded in Angelo Petrucci's mother's basement in 1990 and 1991, prior to the duo's signing with the Benson Company and the company's subsequent decision to hire another producer for the group's debut album. The basement tape was long forgotten until Angelo came across it in his garage, not the worse for wear. Indeed, the production is quite stunning, considering it was not recorded in a professional studio and sat gathering dust for thirty years.
Fans of the duo, part of a vanguard of artists blending the sacred with adult urban contemporary in the late 1980s and early 1990s, will find particularly interesting the originals of five songs they re-recorded on subsequent albums. This collection of songs rides along on new jack swing and smooth R&B balladry. As such, the couple is vaguely reminiscent of Brenda and Phil Nicholas, another husband-and-wife gospel duo that shook up the gospel world with urban contemporary sounds, as well as Ashford & Simpson and (my jam in college) Yarborough & Peoples.
The original version of "Knockin' On Your Door," "Power," and the encouraging "Make It Over," featuring some dog whistle high notes by Veronica, are throwback examples of the fidgety electro-rhythms of new jack swing. "Just Believe It" features Veronica duing a rap interlude. The duo harmonizes particularly well on the original of "Higher Place," which became the title track of their 1992 debut album. Another original featured here is "If This World Were Mine," a call for universal peace, love, and understanding–all of which we can use in container loads.
The poignant "My Brother" argues that when you are called to love your neighbor, that doesn't mean only the ones who are nice to you. "You're All I'll Ever Need," a comely ballad led by Veronica and another original, is the prayer of a faithful disciple discouraged by a lack of success turning others' hearts but grateful for the opportunity, nevertheless. Opening with John 3:16, the power ballad "I Will Love Him" is sung from the perspective of those who have already embraced the message and use it for worship.
Not every track is strictly spiritual in nature. "Don't Say Goodbye," co-written with Joel Hiller, is the most touching song on the collection. Had it been released at the time, the tear-stained plea to reclaim a love nearly lost would have found a place on R&B radio, in teen film soundtracks, and at thousands of wedding receptions.
The Original Recordings contains a fine collection of songs that grow on you with repeated listening. It shines a light on a pioneering contemporary group frequently but regrettably overlooked in the history of gospel music innovators. If the CD is an aural stroll down memory lane for listeners, trust that it was for Angelo & Veronica, also.
Four of Five Stars
Picks: "Knocking On Your Door," "You're All I'll Ever Need," "Don't Say Goodbye"