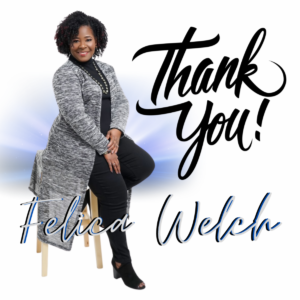 "Thank You"
Felica Welch
D'MAKK Entertainment (release date: May 29, 2021)
By Robert M. Marovich
Veteran Chicago Mass Choir alumna Felica Welch debuts "Thank You," her new single under the D'MAKK Entertainment imprint.
Welch gives this well-produced and lovely ballad of gratitude an even-handed reading, her pleasant and melodic voice reminiscent of Gloria Estefan. She provides the song just the right amount of spiritual passion.
"Thank You" was written by D'MAKK founder Angela Frazier, who also wrote Leah Oduro-Kwarten's 2018 "He Worked It Out." Produced by David Davis. Restful and enchanting.
Written by : Bob Marovich
Bob Marovich is a gospel music historian, author, and radio host. Founder of Journal of Gospel Music blog (formally The Black Gospel Blog) and producer of the Gospel Memories Radio Show.