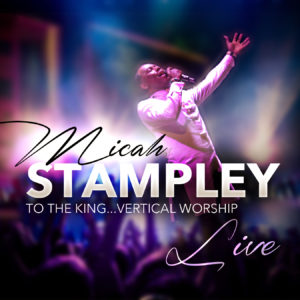 Micah Stampley
To the King. . .Vertical Worship Live
Interface Entertainment (May 20, 2016)
www.micahstampley.org
By Bob Marovich
When Micah Stampley addresses the "generation rising" on his new CD, To the King. . .Vertical Worship Live, he certainly knows his audience.
The musical worship service, recorded live at Oasis Family Life Church in Dallas, Georgia, last year, will especially resonate with the young generation of churchgoers who thrive on the atmospheric flow of Praise & Worship music. The gospel crooner provides plenty of vertical P&W on this, his first live recording.
While many of the songs are new, others, such as "Desperate People," "Our God," and "Heaven on Earth," are Stampley fan favorites originally recorded on previous albums but presented here live for the first time.
The first few songs bear Stampley's trademark energy, but the two medleys of hymns, bookending "Hallelujah Chant," are what lull the audience into worship nirvana. These are "hymns with a twist," as Stampley tells JGM in an interview, because they are the old wooden church songs painted in P&W pastels.
There are times when the songs and music, and the mood they create, clearly affect Stampley as strongly as they do his audience. During animated and more peaceful moments, Stampley interjects glossolalia and whooping, all the while remaining in control of the improvisational arrangements, fashioning them like a musical wizard seeking maximum impact on the gathered throng.
The passionate "Glory to the Lamb" is the strongest track on the album, one of Stampley's best-ever selections, and arguably one of the year's finest performances to date. The repetitive, rhythmic, and radio-friendly "Be Lifted" and the emotional ballad, "Sing Hallelujah," come in second and third, respectively, as album highlights.
One constant on this packed-to-the-rim CD is Micah Stampley's nimble voice, which can deliver otherworldly high notes as easily as quiescent serenading.
Four of Five Stars
Picks: "Be Lifted," "Sing Hallelujah," "Glory to the Lamb."
Written by : Bob Marovich
Bob Marovich is a gospel music historian, author, and radio host. Founder of Journal of Gospel Music blog (formally The Black Gospel Blog) and producer of the Gospel Memories Radio Show.