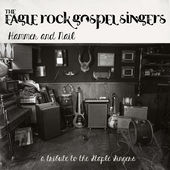 The Eagle Rock Gospel Singers
Hammer and Nail: A Tribute to the Staple Singers
(release date: June 17, 2016)
www.ergospelsingers.com
By Bob Marovich
Imagine female harmonies containing the thunderous power of the Mamas and the Papas' Cass Elliott and Michelle Phillips, and a rock band–all covering Staple Singers classics, and you have an idea of the Eagle Rock Gospel Singers' Hammer and Nail EP.
The ensemble, which loves and respects traditional African American gospel, makes three Staples "staples" its own. "From day one, the Staple Singers have been a primary influence," said Eagle Rock Gospel Singers co-founder Jeremy Horton. "From naming our band to the purchase of a Fender reverb amp to get closer to Pops Staples' vibrato sound, to covering several of their songs, we've looked to them for artistic and philosophical guidance. Recording an EP as a tribute was a logical step."
The Eagle Rock Gospel Singers not only reprise the bluesy vibrato of Pops' guitar, they add church cred with a warbling organ and crashing tambourine. For the most part, the group's male voices cover for Mavis.  That makes sense, as few females could dig far enough down to unearth Mavis's low notes.
The title track is a cover of "More than a Hammer and Nail," one of the Staples' mid-1960s charting hits (first for Riverside and later for Epic). "No Room" comes from the Staples' Twenty-Fifth Day of December LP for Riverside, though the song is a church chestnut: it was recorded as "No Room at the Hotel" by Lou Rawls and the Chosen Gospel Singers in the early 1950s  and under the same title by Chicago's Lucy Smith Jubilee Singers in the late 1920s.
The Eagle Rock Gospel Singers conclude the EP with a cover of the Vee Jay-era classic, "Don't Knock," endowing it with an infectious backbeat, plenty of guitar work, and a drum-led rockabilly flourish at the end.
Given this sneak peek, a full album of Staples covers by the Eagle Rock Gospel Singers would be well worth it, especially if they reprise Mavis's aisle-walker, "Help Me Jesus."
Four of Five Stars
Pick: "Don't Knock"
Written by : Bob Marovich
Bob Marovich is a gospel music historian, author, and radio host. Founder of Journal of Gospel Music blog (formally The Black Gospel Blog) and producer of the Gospel Memories Radio Show.