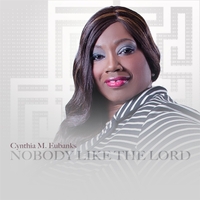 By Bob Marovich
With its infectious aisle-walking vigor, "Nobody Like the Lord" couldn't be more Chicago if the CD cover had a photo of the Picasso on it.
It's the debut single by Cynthia Eubanks, a Chicago artist who has wanted to sing gospel music ever since she was a young girl, participating in regular family singalongs.
"My Uncle Eugene and Aunt Wilma would start off singing doo wop songs from the 1950s and 1960s," Eubanks told the Journal of Gospel Music, "then they would sing gospel songs and it would turn into a mini gospel concert. Being one of the youngest, I would always get a chance to shine by singing my own solo. I would emulate my mother by singing the same songs she sang in church."
For Eubanks and her mother, church was Miracle Holy Ghost Revival Center and, starting in the late 1970s, Monument of Faith Evangelistic Church, where the late Apostle Richard D. Henton was pastor. Eubanks sang lead on occasion with Monument of Faith's Youth Choir and was spotlighted as an upcoming solo artist on the church's popular telecast.
Henton left a lasting impression on Eubanks. "Apostle Henton, O my God, there is so much I can say about him," she said. "He was and always will be a giant in the Gospel! I remember as a little girl how much I enjoyed the messages he was preaching—'LIVE, I command you to live!' and all of his other messages on faith, the power of God, and living in the abundance of Christ. He truly had a great impact throughout my life and even more so today. "
Besides Henton, her mother, and her mother's sisters, Eubanks found inspiration hearing hometown super group the Caravans and especially Shirley Caesar. But while Eubanks was content singing for her church, her mother encouraged her to step beyond the church walls.
"Back in the early 1990s," Eubanks recalled, "my mom told me about a gospel singing competition that gave the winner the opportunity to be featured on [BET's] Bobby Jones Gospel. I entered and won! That was a great experience for me. I began to see myself as more than a church singer. I knew then that God wanted more than my home church to hear my gift."
Pastor Dwayne Grant of Gorham United Methodist Church's award-winning Willie B. Clay Inspirational Choir also gave Eubanks a chance to sing outside her church when he selected her to lead the title track on the choir's 2008 CD, God's Favor.
She said: "Pastor Grant asked me if I would do the lead on a song he wrote, 'God's Favor,' that was about to be recorded. I heard the song, the words spoke to me, and of course I said yes. He now calls me his Mahalia!"
"Nobody Like the Lord" sits right in the singer's sweet spot: that traditional handclapping, exuberant church vibe that defines the Chicago sound.
While taking time to promote the single, Eubanks is completing her first solo album. She is not currently signed with a label, but she keeps the door open. "Right now, I am focused on being an independent artist, but if the opportunity [to sign with a record label] is presented, and it's a good fit, I would welcome it."
Nevertheless, for Cynthia Eubanks, the best part of gospel singing is the ministry aspect of it.
"I love singing," she said, "but at the end of the day for me, it's about ministering God's word through songs. My daily prayer is that someone's life will be changed, inspired, and uplifted. So when someone says my singing got all down in their spirit and did something, that's what's most important to me."
For more information, visit: www.cdbaby.com/Artist/CynthiaMEubanks1.